Russia Monitor is a review of the most important events related to Russian internal and external security, as well as its foreign policies.
Date: 19 June 2022 Author: Grzegorz Kuczyński
French, Italian, German Leaders Visit Ukraine, Mount Pressure On Kyiv
French President Emmanuel Macron, Italian Prime Minister Mario Draghi, and German Chancellor headed to Kyiv, Ukraine, to check whether the Ukrainian authorities are eager to make concessions to Russia to end the war. Perhaps the three Western leaders––all of whom contact regularly Vladimir Putin––have submitted a list of conditions for entering peace talks with Russia.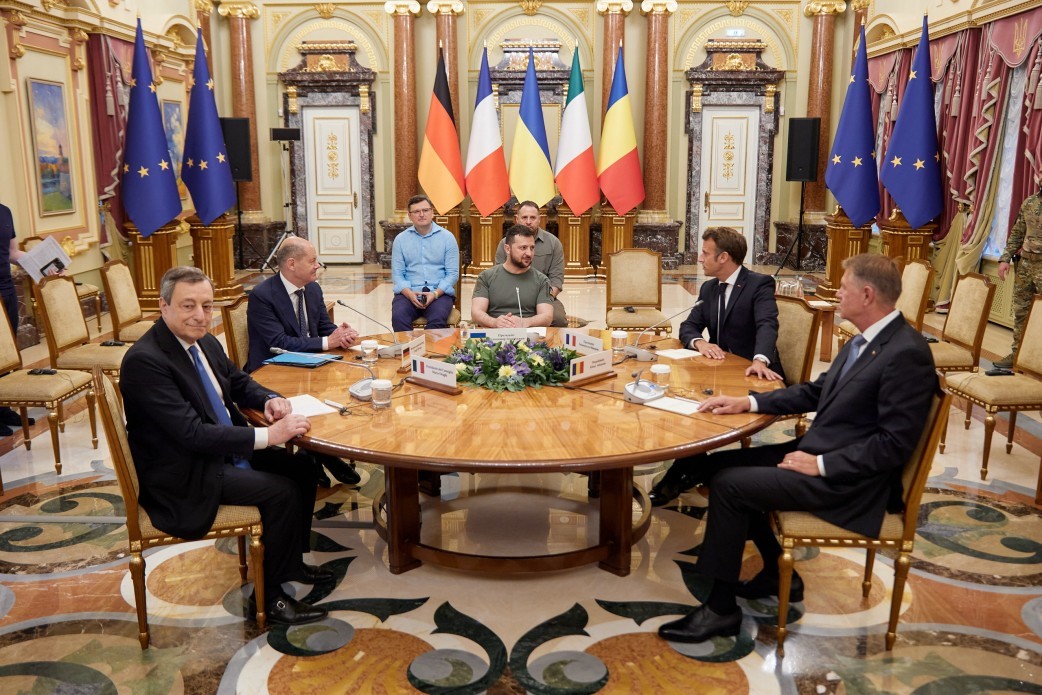 SOURCE:president.gov.ua
Substantially, their visit meant nothing to Ukraine. Recommending that Ukraine be granted E.U. candidate status can hardly come as a breakthrough occurring. In fact, there is no real security guarantee behind the bloc's declaration. Ukraine needs weapons more than anything else now. As the Donbas operation goes on, any extra self-propelled howitzer or long-range missile launcher is worth their weight in gold. But this is the weapon that Kyiv now needs most but got few from the countries whose leaders came to Ukraine. French President Emmanuel Macron announced plans to deliver another six 155mm Caesar self-propelled howitzers to Ukraine, but neither Germany's Scholz nor Italy's Draghi made such promises. Germany said it would supply three Mars II multiple rocket launchers to Ukraine, which is one fewer than announced. Compared to what the United States, the United Kingdom, Poland, and some other Western nations supplied to Ukraine, the German, French, and Italian offer looks somewhat modest. Why is it so? After all, Germany could provide Ukraine with thousands of armored vehicles, tanks, and howitzers. Such is the French-Italian-German tactic as the three states lead a pro-Russian faction in the European Union. More weaponry for Ukraine is tantamount to a longer Donbas campaign, increasing the likelihood of a Ukrainian counteroffensive in the Kherson region. The war would then drag on a few next months while Macron and some of his Western allies want Kyiv to believe there is no chance of defending Donbas or claiming Kherson so entering peace talks with Russia is somewhat a better option. These talks would put an end to all hostilities, consolidate the Russian grip on Donbas and southern Ukraine, push the country away from the sea, and subordinate it economically to the European Union. An optimal solution for Macron, Scholz, and Draghi is to restore ties with Russia while tying war-ravaged Ukraine closer through some dependencies. A weak Ukraine is a blow to a grand project of Intermarium that is competitive both for Russia and the France-Germany-Italy club.
Support Us
If content prepared by Warsaw Institute team is useful for you, please support our actions. Donations from private persons are necessary for the continuation of our mission.
All texts published by the Warsaw Institute Foundation may be disseminated on the condition that their origin is credited. Images may not be used without permission.