Coronavirus Crisis Hits Hard Russia's Healthcare, Business and Military
The epidemic outbreak is sending new shockwaves across Russia. On April 14, the country confirmed 2,774 new coronavirus infections, bringing its official figure to 21,000 and marking a one-day record in new cases. Moscow is the epicenter of the coronavirus outbreak in Russia. The country's capital is seeing further restrictions to come. Meanwhile, independent media outlets say that Russia's weak health system can soon get out of control. While the country's military saw first cases within its ranks, the traditional parade is expected to be postponed from May 9 to September 2. The coronavirus situation in Russia is worsening and the next two or three weeks will be critical for the country.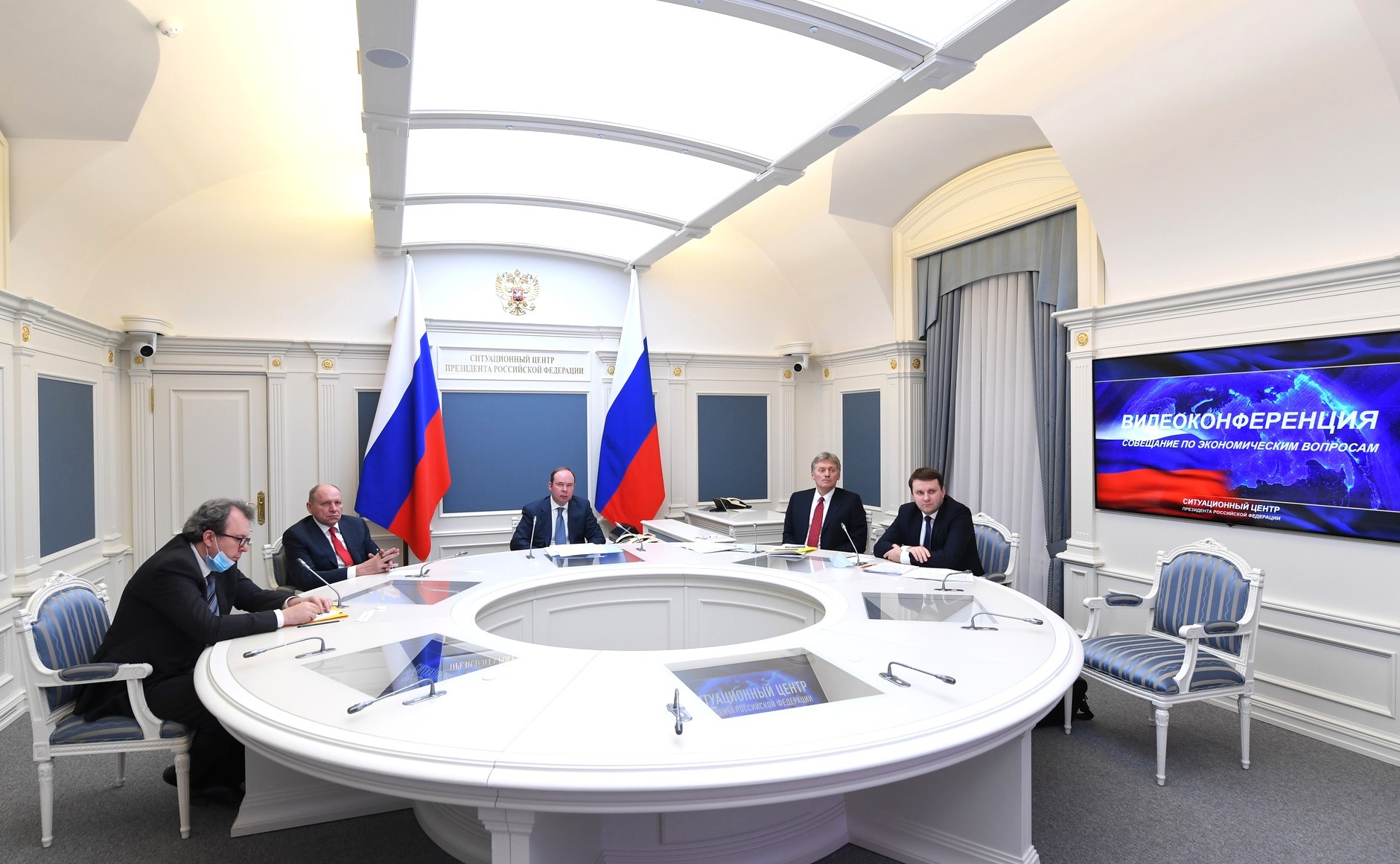 SOURCE: KREMLIN.RU
Russian President Vladimir Putin admitted on April 13 that the situation with coronavirus is developing "in the wrong direction" and that the peak of the epidemic has not yet been reached. The Russian leader was last seen in public on March 26, and since then, he has been working remotely from his country residence at Novo-Ogaryovo outside Moscow. In his latest videoconference, Putin took stock of a deteriorating situation, urging Russian officials not to let their guard down and saying the country would also bring in the defense ministry, including military medics, to help tackle the outbreak. Meanwhile, in late March, three Russian soldiers were diagnosed with coronavirus. But this could be just the tip of the iceberg. Russia's Defense Ministry said the epidemic situation in the army was somewhat "unstable." No further details were available, though. The extent of Russian problem with COVID-19 can be exemplified by an unprecedented proposal currently in Duma to postpone the Victory Day military parade from May 9 to September 2. As of February, Defense Minister Sergei Shoigu said that the Red Square parade would feature 15,000 troops and 375 military vehicles and aircraft. Russian authorities underestimate the scale of the coronavirus crisis, also as far as the country's healthcare capacities are concerned. So far, 72 percent of all cases were reported in Moscow and its surrounding region. The city's health department warned that Moscow could face a shortage of ventilators and hospital beds for coronavirus patients in the next two to three weeks. Following the health care reform, there is an acute deficiency of anaesthesiologists of nearly 30 percent.
Support Us
If content prepared by Warsaw Institute team is useful for you, please support our actions. Donations from private persons are necessary for the continuation of our mission.
Meanwhile, the state aid for business is not enough. Former finance minister Alexei Kudrin said it exceeds 5 percent of the country's GDP, or $18 billion. However, the total support package should be at least seven or eight percent of GDP. Head of Russia's Accounts Chamber thinks it would be reasonable for the government to use the reserves from the National Welfare Fund that accumulates budget surplus from trading energy resources. Yet the trouble is that the Fund's reserves have been used to make up for losses incurred by falling oil prices. Also, Vladimir Putin recommended employers to pay their employees for a nationwide stay-at-home holiday. Worse enough, more than half of them have no intention of doing so. About 30 percent of companies in Moscow asked their employees to take unpaid leave. One firm in five have already cut wages while another one-third seek to follow suit. One company in three is now on the brink of collapse. Putin has pushed the responsibility for handling the crisis to the regional governors who are likely to call the situation under control. Deprived of federal aid, they see the presidential decree differently while having no other choice but to allow large factories to resume operations.
All texts published by the Warsaw Institute Foundation may be disseminated on the condition that their origin is credited. Images may not be used without permission.