Russia Monitor is a review of the most important events related to Russian internal and external security, as well as its foreign policies.
Date: 25 May 2022 Author: Grzegorz Kuczyński
The Case of Gerhard Schroeder, Or The German Hypocrisy
Out of a sudden, Germany's governing parties plan to strip former Chancellor Gerhard Schroeder of his office and staff after he maintained and defended his long-standing ties with Russia. He has come under increasing pressure from media outlets and other politicians, notably those of the CDU. Now they all suddenly found outrageous what had been known for years–––the German ex-leader used his reputation to stage lobby for Russian interests.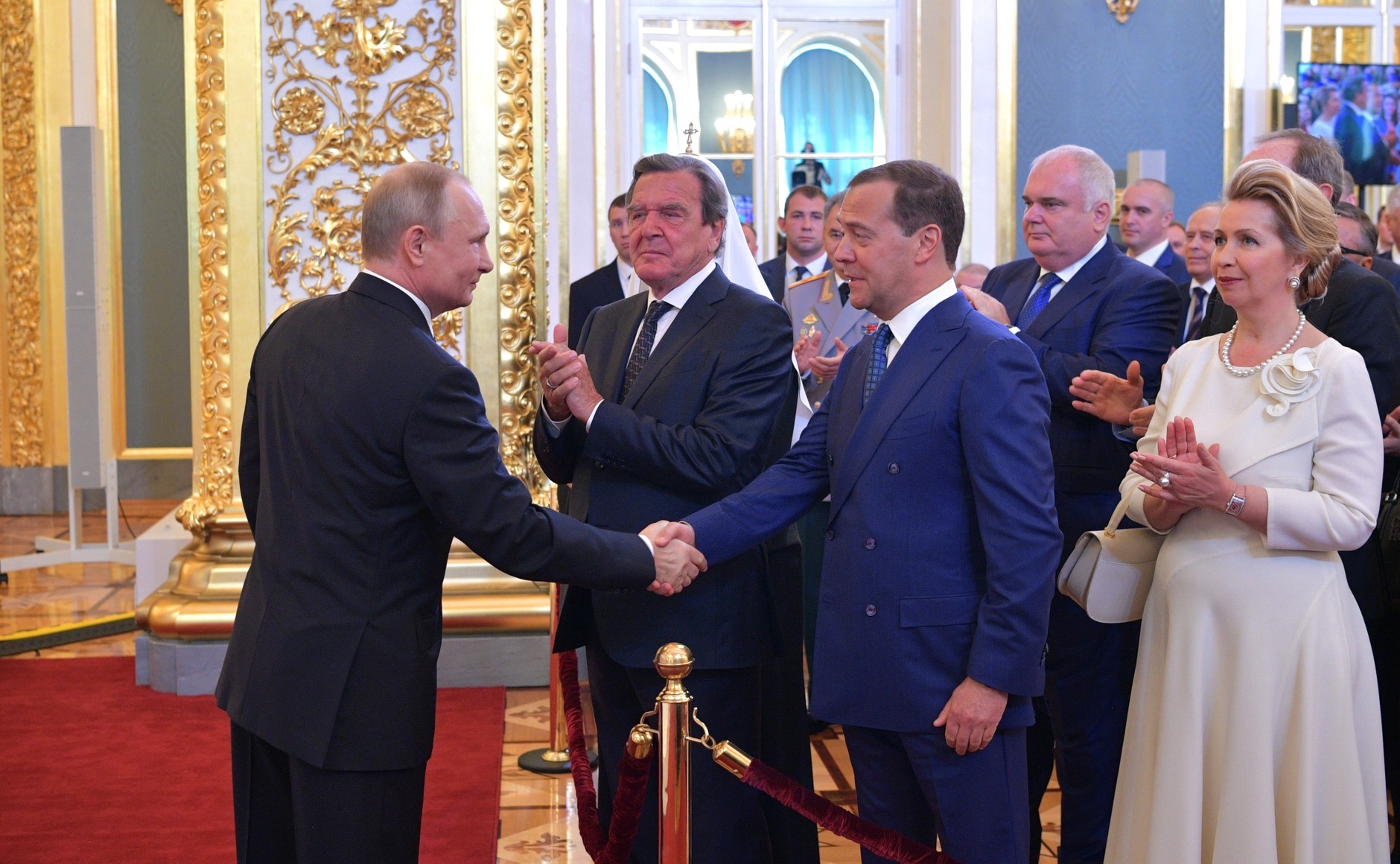 SOURCE:kremlin.ru
Germany's governing parties have decided to strip former chancellor Gerhard Schroeder of his parliamentary privileges. The former leader, who holds positions at Rosneft and Nord Stream, will lose staff and office amid his close ties to the Russian authorities. Why is this just now? As many seek to incriminate Putin personally for the Russian war against Ukraine, just as many see Schroeder Germany's number one and sole culprit of close ties between Russia and Germany. In an interview for German TV broadcaster ARD, Wolfgang Schaeuble of the CDU lambasted the ex-leader for his lobbying for Russian companies and posts he had taken in Russian energy firms after retiring from politics. Schroeder's being part of Russian companies is "wicked," according to the 78-year-old German politicians who had served as a minister under Helmut Kohl and Angela Merkel. "I was wrong, we were all wrong," he added. The construction of the Nord Stream 2 pipeline was a mistake," he said when asked about his views on Russia. "It is too late to discuss this issue," he said. It is a pity that Schaeuble did not criticize Angela Merkel over her policy on Russia. Germany's "we-have-made-a-mistake" narrative towards the Eastern European policy is facing fiercer criticism. If it is true, though, the authorities in Berlin have for years been playing an amateur-like game. Nonetheless, this is hard to believe. Germany consciously sought rapprochement with Moscow. Schroeder's quitting some Russian companies means little–– being nothing but an empty gesture. Former German Chancellor Gerhard Schroeder will leave the board of directors of Russian oil giant Rosneft following public pressure. Schroeder has for years sat atop Rosneft's board of directors. Matthias Warnig, a German businessman, also left Rosneft. Before, five foreign officials had announced their resignations from the board of directors of the Russian state-run energy giant. Russian state oil giant Rosneft on May 20 confirmed that Austria's former foreign minister, Karin Kneissl, has left the company's board of directors. Kneissl was confirmed to the Rosneft board as an independent director in June 2021. Her wedding in 2018 was attended by Russian President Vladimir Putin. She left the government in 2019. German Chancellor Olaf Scholz called on former German Chancellor Gerhard Schroeder to step down from the boards of Russian state-owned energy companies. Schroder indeed stepped down from the board of Rosneft, but he still sits atop Gazprom and Nord Stream AG. Does it matter? Not that much. It is important that Scholz eventually starts sending weapons to Ukraine. But that is not going to happen. Sacrificing Schroeder will not make any deal, contrary to what German officials would think for now. Berlin is undoubtedly seeking a ceasefire in the Russia-Ukraine war to come back to business as usual with Moscow.
Support Us
If content prepared by Warsaw Institute team is useful for you, please support our actions. Donations from private persons are necessary for the continuation of our mission.
All texts published by the Warsaw Institute Foundation may be disseminated on the condition that their origin is credited. Images may not be used without permission.