Russia to Test NATO's Black Sea Flank
Both Russian and NATO air forces have been recently involved in a number of air incidents over the Black Sea. Thanks to their military facilities on the Crimean Peninsula, the Russians managed to increase their aviation activity in the vicinity of the Romanian border. The country, due to the presence of some U.S. military amenities located on its territory, has become the main target of Russia's hostile behavior. Both recent incidents as well as Moscow's provocative attitude seem to confirm that Bucharest has been right: while strengthening NATO's eastern flank in the Baltic region, the Alliance has somewhat neglected its Black Sea section – the region that has a strategic importance because it provides Russia with a sea connection with both the Mediterranean Sea and the Middle East.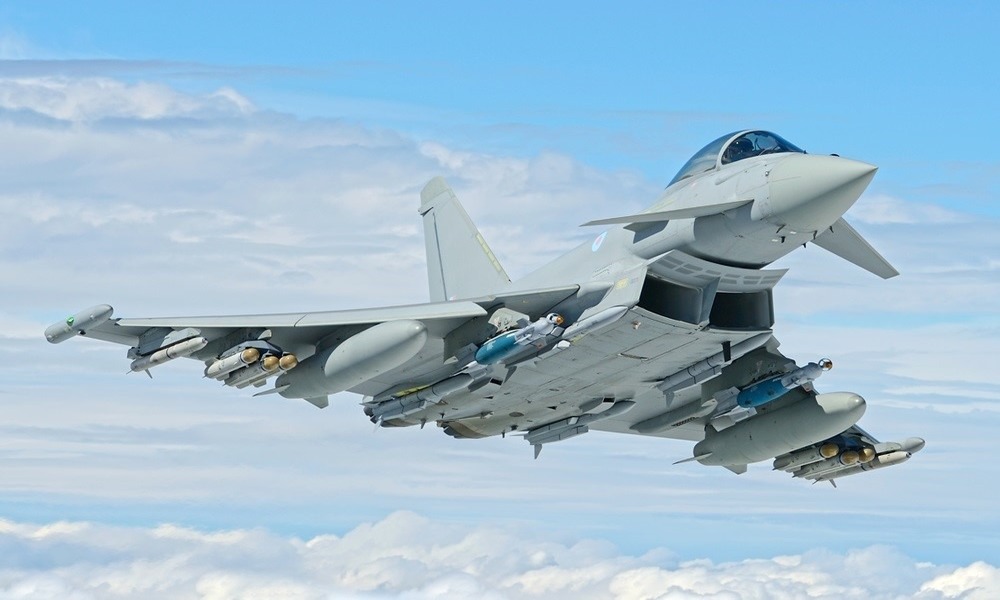 SOURCE: RAF.MOD.UK
Since May, RAF Eurofighter Typhoon fighters from the Scottish base of Lossiemouth have been deployed to Romania as part of NATO 'Enhanced Air Policing' mission. Its aim is to raise the security of Romania as the country may be threatened by Russia's policy. Over the past few weeks, British Typhoon aircraft were scrambled several times in connection to some provocative incidents of the Russian aviation. On July 26, the RAF announced that a pair of fighters was launched from the Mihail Kogalniceanu Air Base near the Romanian city of Constanta; their task was to deter a Russian bomber that was flying towards the NATO airspace. The British aircraft returned to their base after a short patrol. Typhoons were launched in a combat readiness also on August 13 after Russian fighters had approached the NATO airspace over the Black Sea. They have been carefully monitored by the British air forces; nonetheless, no official intervention was started. On August 21, two British Typhoon jets were scrambled to intercept Russian Sukhoi Su-30 fighters that approached the airspace of NATO member states in the Black Sea region. Two days later, on August 23, a pair of Eurofighter Typhoon aircraft intercepted a Russian Be-12 high-wing amphibian that was operating out of its Crimean base.
While commenting on recent activities, Britain's Defense Minister Gavin Williamson stated that recent situation has made it clear for the British authorities to use their best efforts to increase the security of NATO and Europe. "Whether in the skies over the Black Sea and the Baltic, or on the ground in Estonia, our actions send a clear message – we are collectively ready to respond to any act of aggression and will support our Eastern European allies to deter any threats faced", he said. In July this year, Britain's minister of state for the armed forces, Mark Lancaster, spoke about "an ever more assertive Russia." He reported that over the last decade, British fighters had to be launched more than 80 times to intercept Russian military aircraft. The issue was also commented on by the Russian Embassy in London. According to its spokesperson, British politicians can be referred to as irresponsible as they have depicted some "routine actions performed by the Russian side as provocative incidents." In addition, the idea of deploying NATO aircraft to Romania, Baltic States and Poland – instead of enhancing the security of European countries – has been "actually used" by London for carrying out "such provocative activities."
Russia's increased activities in the vicinity of the Romanian border may be associated with yet another breakdown in the country's diplomatic relations with the United States and the North Atlantic Alliance while targeting Romania can hardly come as a surprise, especially due to recent actions. Following the Russian annexation of Crimea, Romania has in fact become Russia's maritime neighbor.
Such increased activity of Russian aviation results with annexation of Ukraine's Crimean as well as expanding its military potential on the peninsula; in particular, the Russians seek to develop a dangerous A2/AD anti-access/area denial strategy); thus, it does not come as a surprise that Moscow has chosen Bucharest as its main target: the United States disposes of the Constanca Air Base as well an anti-missile shield located in the Deveselu Air Base. Russia is currently able to attack most of Romania's territory – both from land and sea.
Facing an increased threat, Romania has decided to review its defense policy and to introduce some major changes. On one hand, the state seeks to deploy the most significant number of allied forces to its territory; nevertheless, on the other hand, it has focused on expanding its territorial defense. And, of course, the country decided to increase its military expenditures. The authorities in Bucharest have recently urged that NATO's eastern flank had been strengthened in an uneven way. More incidents have recently taken place both in Poland and in Baltic states while the situation in Black Sea region seems quite stable. However, the current state of affairs appears all the more serious that Bulgaria – due to its internal political conditions – is not as determined to develop NATO's military potential on this territory while Turkey has clearly approached Russia over the past few years.
All texts published by the Warsaw Institute Foundation may be disseminated on the condition that their origin is credited. Images may not be used without permission.