Russia Monitor is a review of the most important events related to Russian internal and external security, as well as its foreign policies.
Austrian Ex-Foreign Minister Gets Nomination for Russia's Rosneft
Austria's former foreign minister Karin Kneissl – as another European official – has been chosen for a seat on oil giant Rosneft's board of directors. In August 2018, the Austrian politician made headlines when she invited Putin to her wedding. Nominating Kneissl for a post in Rosneft could come as the Kremlin's appreciation of Austria's rather favorable policy toward Russia and the country's consistency in defending the Nord Stream 2 gas pipeline project.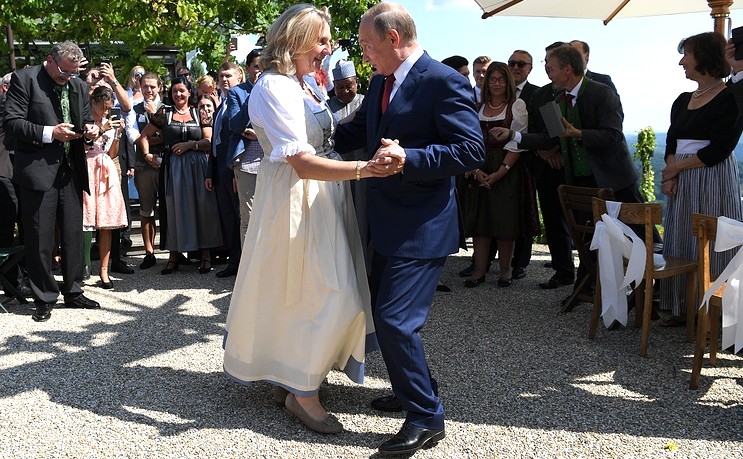 SOURCE: KREMLIN.RU
Karin Kneissl is an attorney and an analyst for energy affairs and the Middle East. Between 2017 and 2019, she served as the Austrian foreign minister, nominated by the far-right and pro-Russian Freedom Party of Austria (FPOe). In August 2018, Putin stopped by the Austrian foreign minister's wedding in Austria. Kneissl said she had invited the Russian president "spontaneously" when he was on an official visit in Vienna while she happened to be giving wedding invitation cards to other colleagues. Her nomination featured a government decree of the Russian Federation on candidates for the board of directors in a company where the Russian state holds majority stakes. Kneissl is not the only Western European candidate nominated to the Rosneft board as an independent director as suggested by the government. The list also includes the former German chancellor Gerhard Schroeder, who is also the chairman of the shareholders' committee for Nord Stream 2, Matthias Warnig (the chief executive office of Nord Stream 2 AG and former Stasi intelligence officer), and Hans-Georg Rudloff, who chairs Marcuard Holding. Other candidates as representatives of the government are Russian Deputy Prime Minister Alexander Novak, Putin's aide Maxim Oreshkin, and the CEO of Rosneft Igor Sechin. In addition to Sechin, Novak, Oreshkin, Schroeder (as chairman), Warnig, and Rudloff, the board of directors of Rosneft includes Professor Oleg Vyugin, Robert Dudley (former CEO of BP), Faisal Al-Suwaidi (Qatar Foundation), Hamad Rashid Al-Mohannadi, and Bernard Looney, the CEO of BP, a company that has shares in Rosneft. A job in the board of directors means high remuneration, for which the company has come under fire. Schroeder earned $600,000, Al-Mohannadi – $530,000 while Warnig – $580,000 for 2019. Gerhard Schroeder is an outstanding example of the Russian strategy of bribing European officials. While serving as top officials, these make decisions being of vital importance for Russian interests whereas upon retirement, they are offered well-paid posts in Russian energy companies or banks. Before stepping down as the German chancellor (1998–2005), Schroeder made a slew of decisions that helped the Nord Stream gas pipeline achieve success. After quitting the job as the chancellor, he became the chairman of the board of directors in the company operating the Nord Stream gas pipeline. In 2017, he was appointed the board chairman of Rosneft. For Moscow, it is also vital that officials like Schroeder still have some political influence in their countries.
Support Us
If content prepared by Warsaw Institute team is useful for you, please support our actions. Donations from private persons are necessary for the continuation of our mission.
All texts published by the Warsaw Institute Foundation may be disseminated on the condition that their origin is credited. Images may not be used without permission.