Date: 4 July 2022 Author: Jakub Lachert 

Western Balkans and the War in Ukraine
A new chapter in the Russia-Ukraine war was a turning point for the security architecture in Europe. Although plainly local and between two states, the war in Ukraine is a proxy war that involves NATO and EU states and the Russian Federation. In consequence, other countries could be dragged into the conflict, including those that remain in the sphere of influence for many superpowers.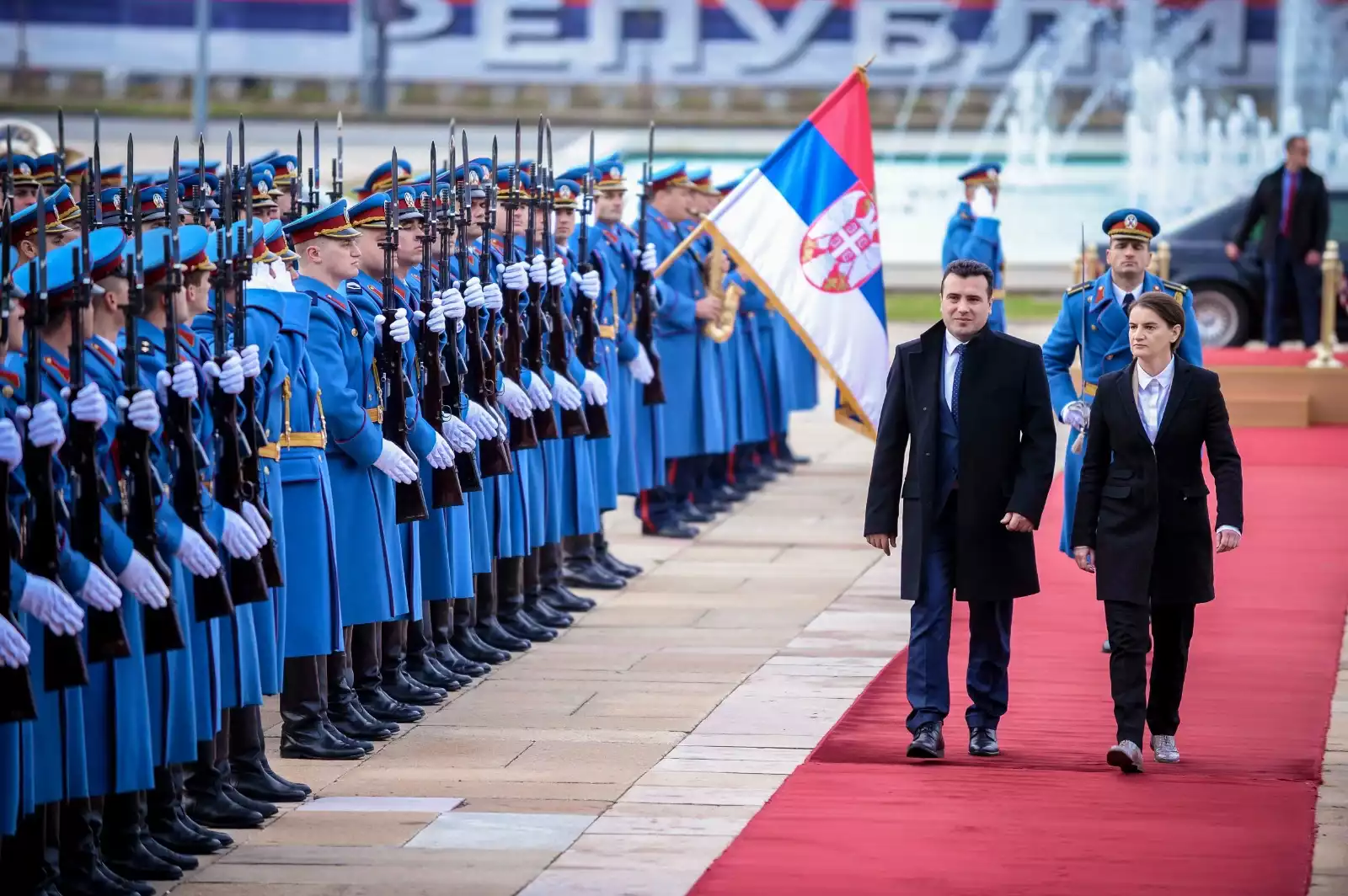 SOURCE: Wikimedia Commons
This text gives an insight into the political situation in the Western Balkans in the context of the Russian invasion of Ukraine. The Western Balkan region comprises Albania and the countries of the former Yugoslavia that fell apart after the 1990s civil war. What brought them all together was their possible accession to the European Union. But despite what Brussels has promised in the past two decades, the region has not yet been fully integrated with the European Union and no country has joined the bloc since 2013 when Croatia became an EU member nation.
But the past two decades also have seen growing interest of Russia, Turkey, China, and the United States in the region. What matters here is the Russian influence throughout the Western Balkans. Russia has insisted on deep fraternal ties with Montenegro, North Macedonia, Serbia, and Republika Srpska––one of the two entities of Bosnia and Herzegovina––to build a sphere of influence across the region. Russia's stance stems from its urge to maintain strategic ties with European countries––the Kremlin believes what it refers to as the "collective West" (NATO and EU nations) is seeking to curb Moscow's grip on Central and Eastern Europe.
Russia uses both its own and local media outlets to share its narrative in a move that makes Western Balkan nations vulnerable[1]. Moscow hopes that its narrative on Ukraine into Western Balkan countries will eventually make some European states, also those in the Balkans, ease their condemnation of Russia. Russia could win a strategic advantage in the Balkans.
Russian influence in the Western Balkans
Of all Western Balkan countries, Republika Srpska of Bosnia and Herzegovina is most exposed to Russian propaganda efforts. The entity, whose capital is Banja Luka, is indeed part of the federal state but enjoys considerable autonomy following the Dayton Agreement of 1995. The deal's purpose was to found administrative bodies for ethnic groups––the Croats, the Bosniaks (or Bosnian Muslims), and the Serbs––so that their interaction is restrained. An internally shattered country was founded in consequence, made up of constituent peoples. The country's state bodies, which collectively serve as the Presidency of Bosnia and Herzegovina comprising three members, have no power to build political consensus. The constituent peoples of Bosnia and Herzegovina look differently at Russia and NATO. State institutions have quarreled one with another since the federal state was established. The Bosnian Serb entity of Republika Srpska is against the country's membership in NATO while throwing political support to Russia. The country's Croats and Bosniaks back its pro-Western aspirations, though.
The rift loomed shortly after Russia invaded Ukraine. Bosnian Serb nationalist leader Milorad Dodik was against Western sanctions on Russia. Punitive measures on Russia were scuppered by Bosnian Serb members of the Presidency although the Croats and the Bosniaks voted in favor of restrictions. On March 2, Bosnia and Herzegovina adopted a UN General Assembly resolution affirming its commitment to the territorial integrity of Ukraine. It did so despite pressure both Serbia and Russia placed on Bosnia's representative to the United Nations, claiming there was no unanimity and no such decision could be taken nationwide.
Moscow sees this ambiguous diplomatic stance of Bosnia as possibly vital to play its interests in Western Balkan states. The Kremlin's chief mission in Bosnia and Herzegovina is to remove foreign delegates from the country. The High Representative for Bosnia and Herzegovina is superior to state offices. Its purpose is to oversee stability in the country. Nonetheless, it is Western countries that oversee Bosnia and Herzegovina, being at the same time an obstacle for Moscow to steer the Western Balkan state away from NATO and the European Union. Moscow claims that Western efforts in Bosnia and Herzegovina stir up conflicts between the country's biggest ethnic groups. Meanwhile, Russia takes the side of Republika Srpska, arguing the entity has suffered some damage from an obsolete state authority system.
Against the backdrop of the war in Ukraine, Moscow could attempt to encourage antagonisms in Bosnia and Herzegovina. Rising tensions in the Western Balkans could attract public attention to what happens in Bosnia and Herzegovina. NATO Secretary General Jens Stoltenberg told a press conference on March 4 that Russia could stir tensions in some countries, including Bosnia and Herzegovina[2].
Moscow's policy toward the region seeks to keep it away from the European Union and NATO. Bosnia and Herzegovina has the right to decide whether or not to join NATO, Russian Ambassador to Bosnia and Herzegovina Igor Kalbukhov has said, warning, however, that Moscow reserves the right to respond to such a possibility. His statement was strongly opposed by the Bosniak and Croat members of the Presidency. Milorad Dodik of Republika Srpska is naturally opposed to the entry of Bosnia and Herzegovina into NATO.
Russian threats toward Bosnia and Herzegovina could destabilize the country while not involving Moscow in any military operations. Any war in the Western Balkans would be a proxy war between Russia and Western nations––just as the war in Ukraine is now. War in Bosnia and Herzegovina or Kosovo could give NATO headaches because it would take place inside the bloc that is of strategic importance for security in Central and Eastern Europe.
Serbia is another target of Russian geopolitical interference. Belgrade enjoys this alliance because of the support the Kremlin throws to the country. In addition, Russia has denied changing its attitude towards Kosovo and will not recognize it as an independent state.
The Serbia-Kosovo conflict and a fragile political situation in Bosnia and Herzegovina are both comfortable for the Kremlin to destabilize the Western Balkan region. Of all these states, Bosnia and Herzegovina, Kosovo, and Serbia are non-NATO countries. People in Serbia still blame NATO for its 1999 invasion of the country. The NATO bombing campaign in March 1999 claimed the lives of 500 people and resulted in terrible damage[3]. Thus, there is little social support for NATO integration in Serbia. A survey conducted by the Center for Euro-Atlantic Studies (CEAS) found that 80 percent[4] of respondents were against NATO membership in 2020. Many people in Serbia still remember the war in the former Yugoslavia, the role of NATO, and efforts to remain militarily neutral.
The Russian invasion of Ukraine, which broke out in February 2022, has triggered distinct reactions in Serbia. Serbian officials, including the country's president Aleksandar Vucic, are ambiguous on the matter. Vucic said he would condemn Russia's recognition of the independence of separatist regions in eastern Ukraine if Ukrainian President Volodymyr Zelenskyy condemns NATO's bombing campaign against Serbia in 1999. His statement comes in response to Ukrainian Ambassador Alexander Alexandrovich, who said Ukraine and the Ukrainian people expected Serbia to condemn Russia's recognition of Donbas' independence[5]. The Serbian leader also stated security concerns in Europe amid the Russian aggression. Russia built its ties with Serbia on a distinct geopolitical foundation that those with Republika Srpska. Belgrade has a different foreign policy that Republika Srpska, the latter of which being an entity of Bosnia and Herzegovina. The authorities in Banja Luka are seeking to build a bigger autonomy towards Sarajevo with some help from Russia. Although Serbia cements military and energy ties with Russia, it still has aspirations for EU membership. Montenegro and Serbia remain the most advanced in the EU integration process. These are two only Western Balkan countries to have formally opened accession talks. Hence Russia has been pushing on Serbia differently than on Republika Srpska.
Just like Bosnia and Herzegovina, Serbia has not imposed sanctions on Russia. As an EU candidate country, its policy should be aligned to that of the bloc. The authorities in Belgrade seem to ignore pressure from Brussels. "The countries that bombed us, I would not say that they have the moral right to ask us to join their own sanctions policy," Aleksandar Vulin, Serbia's interior minister, was quoted as saying[6].
As for the Russia-Ukraine war, Serbia insists on Ukraine's territorial integrity. Serbia sees Ukrainian efforts to keep Donbas as tantamount to its attempts to maintain Kosovo within its borders. Serbian senior officials and many people seem upset about the West's double standards regarding international law, notably the right of the state to remain as one with the same territorial boundaries.
Moscow is igniting its anti-Western rhetoric, showing itself as a "defender" of Serbian national interests in the Western Balkans. Having annexed the Crimean peninsula, Russia referred to the Kosovo precedent in the secession that violated the right to territorial integrity. In Kosovo, Moscow is seeking to drive a wedge between Kosovo and Serbia to compromise the latter's position vis-a-vis the European Union. Pristina and Belgrade must recognize each other in order to join the European Union. Tensions between Serbia and Kosovo––as in Bosnia and Herzegovina––could engage NATO states whose attention will then be steered away from Ukraine. Now when Kyiv gets weapons from the West, any attempt to divert the bloc's attention from Ukraine while paying it to the Western Balkans could be an extra point for the Kremlin.
Kremlin's restricted sphere of influence
What was Russia's biggest failure in the Western Balkans was the NATO invitation for Montenegro and North Macedonia. With a cultural and religious link, Moscow has treated both states as its possible sphere of influence. The economy of Montenegro largely depends on tourism––many Russian visitors have visited the country in the last decade under the visa-free regime. In addition, Russia was the number one investor in Montenegro, benefiting from the country's liberal investment law. Wealthy Russians have become increasingly interested in "golden passports"––programs that allow them to obtain residence in Montenegro for all those who poured at least €450,000 into the country's economy[7].
Montenegro introduced sanctions on Russia that were similar to the EU's ones following Moscow's invasion of Ukraine that hit a blow to tourism in Montenegro. The country struggled to blacklist Russian companies amid its some political chasms inside where a couple of parties exhibit pro-Russian attitudes. Montenegro adopted sanctions against Russia on April 8 following U.S. calls to blacklist Russia as a gesture of solidarity with the European Union and NATO (Podgorica has been a member of the military bloc since 2016). In Montenegro, a political debate ensued on whether to sanction Russia or not. Fractures ran alongside pro-European parties, including United Reform Action led by Montenegro's incumbent prime minister Dritan Abazović (in office since April 28), and people loyal to Zdravko Krivokapić, former PM and founder of the Ne damo Crnu Goru ("We won't give up Montenegro") party established in support of the Serbian Orthodox Church.
Unlike Serbia and despite some political differences, Montenegro is willing to accelerate integration with the European Union. The country adopted sanctions in a move that corroborated its EU aspirations. Podgorica's decision to join NATO in 2016 was the first breakthrough and unequivocal support for integration with the West. Moscow acknowledged Montenegro's effort as a major threat to its interests regionwide. In 2016, Russian and Serbian operatives allegedly staged a coup to overthrow the government in Podgorica. The plot to topple the government compromised the Russian policy towards Montenegro while not preventing the Balkan state from joining NATO. The authorities in Podgorica follow a policy on Russia that differs from that of Serbia. The Kremlin has no adequate political tools to exert influence on the country's domestic affairs.
Another country that is locked in the Russia-West rivalry is North Macedonia. A NATO member since 2020, the country could join the bloc after settling a naming dispute[8]. Amid tough relations with neighboring countries––Greece and Bulgaria––over cultural heritage, North Macedonia has been entangled in dialogue, suggesting some solutions some nationalist parties considered betrayal. The Social Democratic Union of Macedonia (Социјалдемократски сојуз на Македонија, or SDSM) is a pro-European political party that was behind the breakthrough Prespa agreement between North Macedonia and Greece, resolving the long-standing naming conflict. The party has strongly condemned Russia's war in Ukraine and imposed sanctions on Moscow. These efforts are meant to portray Montenegro as a credible NATO state and an EU candidate country. Meanwhile, North Macedonia expects Bulgaria to resolve the impasse brought on by the Bulgarian veto to Skopje's EU membership negotiations. The veto from Bulgaria stems from history and identity and has nothing in common with the North Macedonian path towards EU standards. The authorities in Skopje believe it is nothing but a political decision that has no reference to the country's EU aspirations.
North Macedonia's and Albania's bid for membership has been in limbo for two years now while the level of social impatience could stall further integration efforts. In consequence, pro-Russian parties could come to power, including Internal Macedonian Revolutionary Organization – Democratic Party for Macedonian National Unity (Macedonian: Внатрешна македонска револуционерна организација – Демократска партија за македонско национално единство, or VMRO-DPMNE).
Another thing that angered people in North Macedonia was Ukraine's request for EU membership under a fast-track procedure. North Macedonia has been in limbo for EU membership for two years now amid the Bulgarian veto, which seems to discourage North Macedonians from the bloc.
Here, Russia could intervene, trying to take advantage of EU-related resentment in the country. This does not entail a pro-Russian narrative but may refer to identity issues amid the Bulgarian conflict. In its dispute with North Macedonia, Bulgaria labels the Macedonian language as a Bulgarian dialect, claiming North Macedonians have roots in Bulgarian culture[9].
Last but not least, Albania is not home to any openly pro-Russian political groups. The state has remained out of the Russian reach due to some political and cultural conditions. In the past thirty years, no Russian president or prime minister has traveled to Albania. Although signed in 2004, the friendship treaty between Russia and Albania has never been ratified[10].
Conclusions
The last decade has seen Russian efforts to consolidate the grip on Western Balkan countries. To this end, the Kremlin is targeting nations that feel disappointed with the West, economically and politically. First, the EU integration efforts did not produce any tangible results, though many expected it to push the region towards development. Brussels is still wondering about the Balkan path towards EU accession and the region's place in the whole process. Those who lose credibility amid failed efforts are pro-European parties in North Macedonia, Montenegro, and Serbia––all of which enforce reforms and make sacrifices to eventually join the bloc. They might give way to parties that remain somewhat skeptical of the West and often get assistance from Russia that is consolidating its position through separatist moods.
In the 1990s, so shortly after the demise of the European Union, Russia was too weak to carve its sphere of influence in the former Yugoslavia. As Western nations have no uniform stance towards the region, Russia has gained in importance in some Western Balkan countries.
With Russia's failures in Ukraine so far, the Western Balkans––a Europe's "soft underbelly"–could divert public attention from what is now going on in Ukraine. A conflict in Bosnia and Herzegovina would involve NATO armed forces and make millions of people flee to Western Europe while compromising the peace process for the Western Balkans that includes UN, NATO, and EU missions.
The EU and NATO, which provide assistance to the region, both win a strategic advantage over Russia. The European Parliament and the Council agreed on the new Instrument for Pre-accession Assistance, with a total budget of over €14 billion, for the 2021-2027 Multiannual Financial Framework period[11].
Seeking to curb Russian influence throughout the region, the EU should submit an ambitious Balkan agenda to set an accession date for Montenegro and Serbia and lift the Bulgarian veto to start negotiation talks with Albania and North Macedonia. Such actions would support pro-European politicians in the region and further peacekeeping and reconciliation missions.
[1]RUSSIA'S STRATEGIC INTERESTS AND TOOLS OF INFLUENCE IN THE WESTERN BALKANS, https://stratcomcoe.org/pdfjs/?file=/publications/download/russias_strategic_interests_in_balkans_11dec.pdf?zoom=page-fit,  NATO STRATCOM, 2017 [accessed: May 12, 2022]
[2]Press conference by NATO Secretary General Jens Stoltenberg following the Extraordinary meeting of NATO Ministers of Foreign Affairs, https://www.nato.int/cps/en/natohq/opinions_192739.htm [accessed: May 8, 2022]
[3]CIVILIAN DEATHS IN THE NATO AIR CAMPAIGN, https://www.hrw.org/sites/default/files/reports/natbm002.pdf, Human Rights Watch Report, 2000, p. 5 [accessed: May 12, 2022]
[4]Survey: 80% of Serbian citizens against NATO membership, but only 33% against cooperation, https://europeanwesternbalkans.com/2020/11/17/survey-80-of-serbian-citizens-against-nato-membership-but-only-33-against-cooperation/, European Western Balkans, 2020 [accessed: May 14, 2022]
[5]Serbski prezydent: Potępimy działania Rosji, jeśli Ukraina potępi bombardowanie NATO z 1999 r., https://www.euractiv.pl/section/bezpieczenstwo-i-obrona/news/serbia-vucic-kosowo-balkany-rosja-lawrow-putin-nato-zelenski/, Euractive [accessed: May 14, 2022]
[6]Serbia: Zachód nie ma prawa domagać się od nas nałożenia sankcji na Rosję, https://www.euractiv.pl/section/polityka-zagraniczna-ue/news/serbia-belgrad-sankcje-rosja-wojna-uchodzcy-ue-migracje-aleksandar-vulin/, Euractive, 2022 [accessed: May 14, 2022]
[7]MONTENEGRO CITIZENSHIP BY INVESTMENT, https://www.goldenvisas.com/montenegro [accessed: May 15, 2022]
[8]Greece agreed on the name "North Macedonia," putting an end to a decades-long dispute over the Hellenic heritage.
[9]Jan Muś, Spór historyczny ponownie komplikuje stosunki między Bułgarią i Macedonią Północną, https://ies.lublin.pl/komentarze/spor-historyczny-ponownie-komplikuje-stosunki-miedzy-bulgaria-i-macedonia-polnocna/, Instytut Europy Środkowej, 2020 [accessed: May 15, 2022]
[10]Agata Domachowska, Wpływy rosyjskie w regionie Bałkanów Zachodnich – cz. 2 Albania i Czarnogóra,  https://ies.lublin.pl/wp-content/uploads/2021/03/prace_ies_2021-1.pdf, Instytut Europy Wschodniej, 2021, p. 20 [accessed: May 15, 2022]
[11]European Parliament and Council reach agreement on €14 billion IPA III, https://europeanwesternbalkans.com/2021/06/03/european-parliament-and-council-reach-agreement-on-e14-billion-ipa-iii/, 2021, [accessed: May 15, 2022]
Jakub Lachert – He is a PhD candidate at the Faculty of Political Sciences and International Studies at the University of Warsaw. His research interests include: European Union neighborhood policy, including, in particular, Eastern policy, Eastern Partnership, Western Balkans in the process of integration with the EU.
Support Us
If content prepared by Warsaw Institute team is useful for you, please support our actions. Donations from private persons are necessary for the continuation of our mission.
All texts published by the Warsaw Institute Foundation may be disseminated on the condition that their origin is credited. Images may not be used without permission.