Russia Monitor is a review of the most important events related to Russian internal and external security, as well as its foreign policies.
Date: 28 February 2022 Author: Grzegorz Kuczyński
Ukraine-Russia War: Russian Vulnerabilities On Southeastern Front
The Russia-Ukraine war has in fact continued in Donbas since 2014. After the Kremlin officially recognized the self-proclaimed Donetsk and Luhansk People's Republics in war-torn eastern Ukraine, it could have seemed that these two will turn into the military theater. Yet Putin decided otherwise. The military theatre in Donbas is fundamental for three reasons. Firstly, this is where Ukrainian forces have been for years now and are best prepared for defensive. Secondly, Russian forces could advance northwest, heading from Donbas towards Kharkiv to back soldiers that invade the city from the east. Thirdly, an assault group is advancing on Mariupol along the coast of the Sea of Azov to join troops moving forward from the Crimean peninsula.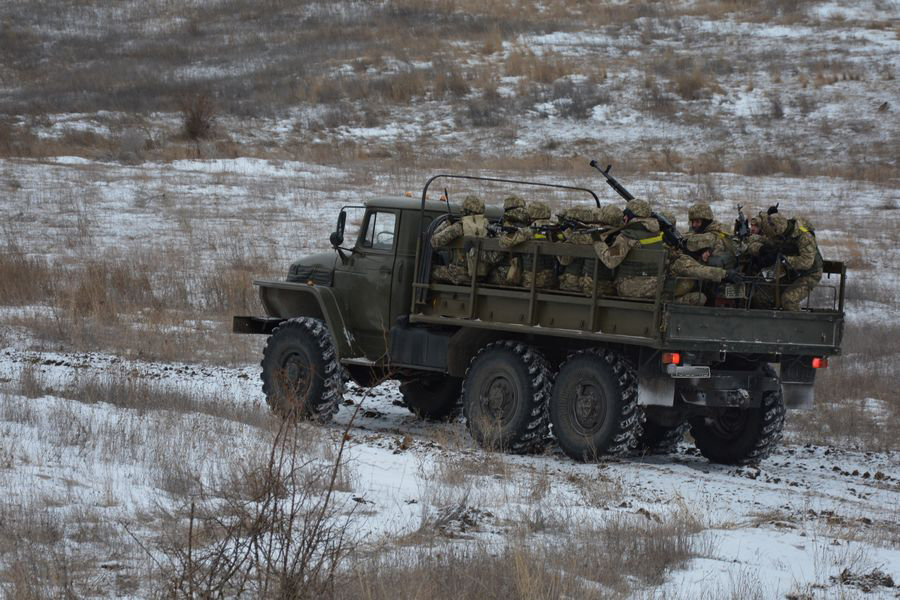 SOURCE:FLICKR
A major challenge that Russia is now facing consists in coordinating air raids and an amphibious landing. While airborne forces could be dropped along the Dnepr River to seize crucial bridges, how long would they be able to hold out while armored forces try to reach them over winter roads? The same applies to amphibious forces attempting to outflank Ukrainian defenses near Mariupol or to seize Odesa. Black Sea hydrography and coastal topography provide few good landing sites for amphibious forces, and once landed, they would be hard to sustain. Without proper coordination and rapid advance of armored forces, any airborne or amphibious assault as part of the invasion could become a "bridge or beach too far" for Russian forces. Russian problems have become clear now as the country's forces are continuing hostilities in southern and southeastern Ukraine. Let's start with Donbas. Russia could carry out a military operation locally in Donbas to extend the front and move deep into Ukraine before stopping there. Now it is clear that the Russian operation in Donbas played a supporting role. There is no frontal assault from the Donetsk region to Dnipro via the E50 road and/or to Zaporizhzhia via the N15 road (225 km). Speaking of the Donetsk section in Donbas, it was reported on February 25 that Russian forces attacked Mariupol. This suggests a thrust advancing along the Sea of Azov, across Mariupol and Berdyansk, to the Perekop isthmus that links mainland Ukraine and Crimea. But the biggest blow went north, from Luhansk. This could be a backup operation for Russian forces that advanced on Kharkiv. Therefore, the best course of action for Russian troops would be to bypass urban areas and mop them up later. However, Kharkiv is just over the border from Russia and is a major road and railroad junction. If Russian forces did not control Kharkiv, it would seriously diminish their logistical capability to support a central thrust toward the Dnepr River and beyond. Furthermore, Kyiv poses a similar challenge and, as the nation's capital, possesses great symbolic value for whichever side holds it.  Russia may be unable to avoid sustained urban combat in several major metropolitan areas (and the resulting high casualties) if it attempts more than a punitive incursion into Ukraine. Where is Russia most likely to advance across the eastern front? This route might include an axis that moves through Belgorod, Russia; Kharkiv, Ukraine (E105 road); Poltava, Ukraine (M03 road); and finally to Kremenchuk, Ukraine (320 km). Another option, which is more to the south, is to move from Belgorod to Kharkiv, and possibly another thrust to Dnipro (E105 road), perhaps to cut off Ukrainian forces in Donbas. The Russian problem was that its troops failed to do it over the first three days as they got stuck in Kharkiv and in the northern part of the Luhansk region.
This article is based on the Russia's Possible Invasion of Ukraine report | Center for Strategic and International Studies (csis.org).
Support Us
If content prepared by Warsaw Institute team is useful for you, please support our actions. Donations from private persons are necessary for the continuation of our mission.
All texts published by the Warsaw Institute Foundation may be disseminated on the condition that their origin is credited. Images may not be used without permission.