Russia Monitor is a review of the most important events related to Russian internal and external security, as well as its foreign policies.
Ukraine Charges Putin Ally With High Treason
Kyiv's main pro-Russian politician Viktor Medvedchuk is wanted by Ukraine's Security Service, or SBU. Ukraine's chief prosecutor charged the lawmaker with treason. The new and so far strongest blow dealt to Medvedchuk could further sour tensions on the Ukraine-Russia border, unleash retaliatory steps from Moscow and add some fuss to the agenda of a possible meeting between the U.S. and Russian leaders.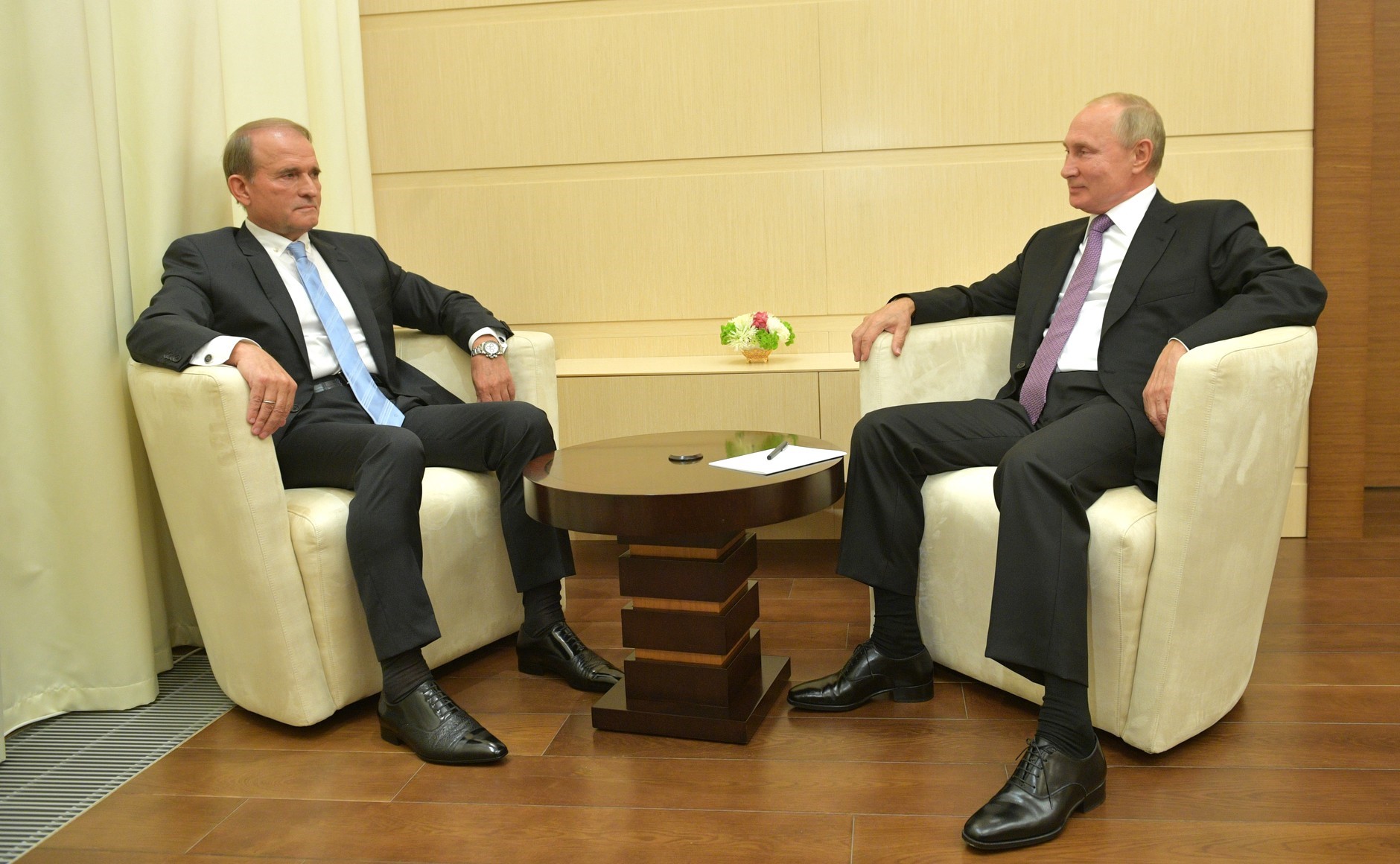 SOURCE: KREMLIN.RU
Ukraine has indicted two Ukrainian lawmakers. Charges under several articles were also brought against Medvedchuk business partner Taras Kozak. Earlier both had been witnesses in the case of illegal activities in Russian-occupied Crimea. Medvedchuk, who is the head of the political council of Opposition Platform – For Life, allegedly stole business assets belonging to Ukraine. Ukraine's Security Service has searched the home of Kremlin-friendly tycoon and many other related premises. Earlier Ukrainian authorities had announced sanctions against Medvedchuk and his wife; the couple had its financial assets frozen on suspicion of "financing terrorism." Soon after that, Russia began amassing its troops near the Ukrainian border, thus sending a threat of war. Medvechuk is an experienced politician. Some twenty years ago he was chief of staff to former Ukrainian President Leonid Kuchma, the country's "eminence grise." Despite his openly pro-Russian stance, he sat at the negotiating table with Russia back when Petro Poroshenko was in power. Medvedchuk has a deep personal relationship with Putin, who is the godfather of Medvedchuk's daughter. The leader of Ukraine's pro-Russian opposition party has in the past visited Moscow more than once and has been a guest at the Kremlin. Taras Kozak, who is another suspect in the case, is an owner of pro-Russian TV channels, de facto controlled by Medvedchuk. In February Ukrainian authorities imposed sanctions against the businessmen and barred the outlets from broadcasting. Also, Kozak's businesses were involved in the illegal coal trade in Donbas. The latest decision from Ukrainian authorities prompts an open conflict with Medvedchuk and the country's Kremlin-friendly political groups. One might expect a tit-for-tat response from Russia. Also, Moscow has not withdrawn all of its troops it had dispatched to the country's border with Ukraine back in March and April. Thus a series of war-related threats may start again and it is to be expected that pro-Russian rebel fighters in Donbas along with the Russian military kick off intensified military provocations on the front line. Mounting tensions between Moscow and Kyiv may affect the announced meeting between Biden and Putin. These are rather unlikely to break the summit but certainly will shape its agenda. Interestingly, Ukraine charged Medvedchuk with treason shortly after U.S. Secretary of State Antony Bliken visited Kyiv, a move probably suggesting U.S. approval. A few days ago the U.S. biggest fuel pipeline network was shut down by a cyberattack, possibly from Russia.
Support Us
If content prepared by Warsaw Institute team is useful for you, please support our actions. Donations from private persons are necessary for the continuation of our mission.
All texts published by the Warsaw Institute Foundation may be disseminated on the condition that their origin is credited. Images may not be used without permission.