Russia Monitor is a review of the most important events related to Russian internal and external security, as well as its foreign policies.
Date: 24 August 2023 Author: Grzegorz Kuczyński
Surovikin Removed from Military Leadership, But Still Useful for Russian Regime
Russia's General Sergei Surovikin, an arch critic of General Valery Gerasimov and Defense Minister Sergei Shoigu, has been removed from his leadership role in Moscow's war on Ukraine. Kremlin officials sought to keep Surovikin to prevent the defense minister and the chief of general staff from declaring victory after Prigozhin's death.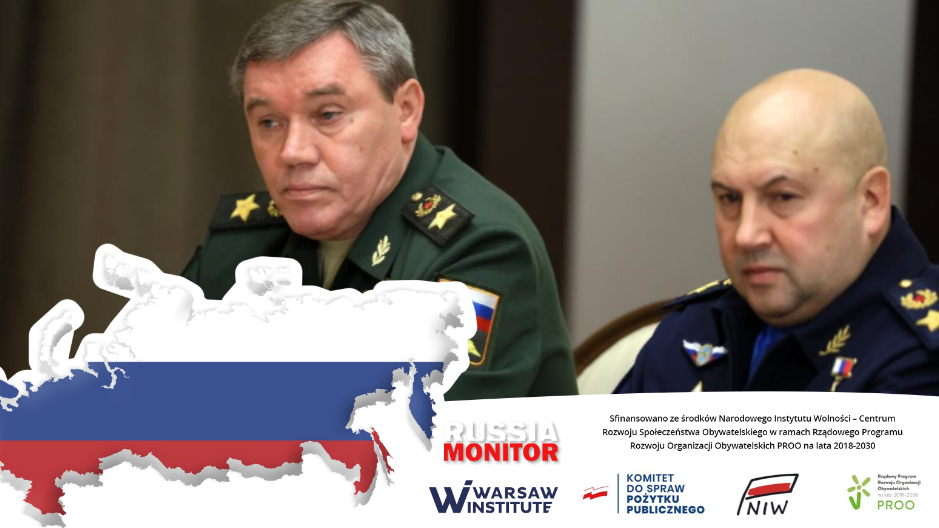 SOURCE: kremlin.ru
General Sergei Surovikin was the biggest threat to Gerasimov due to his leadership skills and the job of commander of the Air and Space Forces and deputy commander of Russia's "special military operation" in Ukraine. Surovikin was replaced as commander in Ukraine by Chief of General Staff Gen. Valery Gerasimov in the last few months of 2022. He convinced Putin to retreat from the right bank of the Dnipro River in Kherson province and ordered to build fortifications in southern Ukraine. The so-called "Surovikin Line" refers to defensive lines in Ukraine to effectively impede Ukraine's armed forces. Surovikin was fired amid his criticism of Gen. Valery Gerasimov, chief of the general staff and overall commander for the war in Ukraine since January. The armed insurgency by the Wagner private military company has become a pretext for dismissing Surovikin. The general was believed to be an ally of exiled Wagner chief Yevgeny Prigozhin. Yet he went missing in the wake of Prigozhin's Wagner mutiny. Surovikin was rumored to have been put under house arrest and interrogated by a special committee. Eventually, Putin removed Surovikin from his post on August 18 by a closed decree, perhaps as part of a large-scale operation to smash Prigozhin and his allies. Other victims were Air Force commander Col-Gen Andrey Yudin and Major-General Nikolay Gostev––commander of Russia's 4th Air Force Army–– who were both dismissed from their posts. However, Surovikin was being retained by the defense ministry. He also retained his job as the chief of the Air Defense Coordinating Committee of the CIS. This is just a symbolic job yet means that Surovikin is still in the game. The Kremlin does not want Shoigu and Gerasimov to take full power in the military. Russian authorities could award Surovikin to a more prominent military job at any time. What might corroborate Putin's strategy is that Colonel General Mikhail Teplinsky was appointed chief of the "Dnieper" army group in the Kherson Region. Speculation persisted that airborne forces commander General Mikhail Teplinsky could be also removed from his role.
Support Us
If content prepared by Warsaw Institute team is useful for you, please support our actions. Donations from private persons are necessary for the continuation of our mission.
All texts published by the Warsaw Institute Foundation may be disseminated on the condition that their origin is credited. Images may not be used without permission.