Russia's Shoigu Visits Belgrade: Will Serbia Fall Afoul of the U.S.?

Serbia's ties with Russia are the best in many decades, as evidenced by Sergei Shoigu's recent trip to Belgrade in what was yet another visit of a senior Russian official to Serbia. On the meeting's agenda might have been Serbia's finalizing a deal to buy Russian-built Pantsir-S1 air defense systems. But Belgrade is pressing on to achieve the purchase despite the U.S. warning about sanctions. Moscow's friendship with Serbia remained untarnished even in spite of a spying incident last autumn when Russia's GRU military intelligence service recruited Serbian army officers as spies.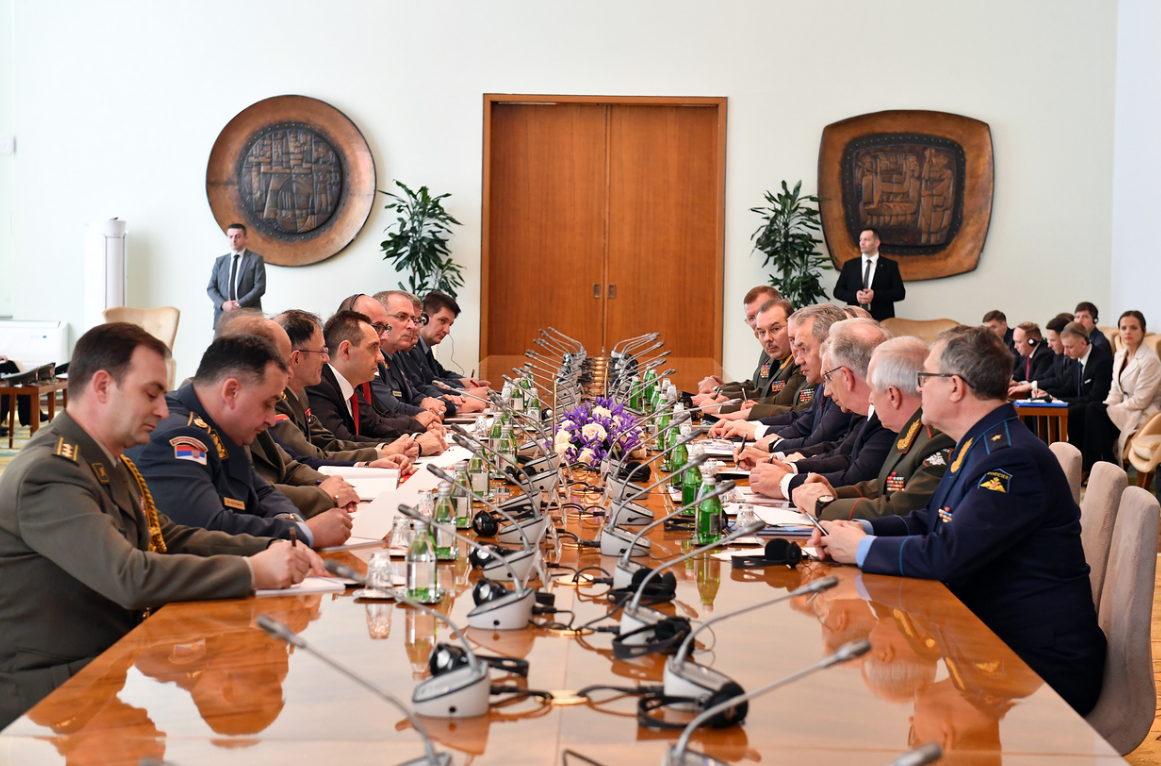 SOURCE: MOD.GOV.RS
"Serbian-Russian military cooperation is on an upward trend while both countries are committed to further enhancing it," Serbian Defense Ministry wrote on its website after hosting a Russian delegation led by Russian Defense Minister Sergei Shoigu on February 17. "Serbia wants a strong army because it is a guarantee of stability and neutrality," his Serbian counterpart, Aleksandar Vulin, told at the meeting. The top Russian official said Moscow was interested in furthering its military cooperation with Belgrade. Vulin is one of Serbia's most pro-Russian government officials. It was his ninth meeting with Shoigu since the Serbian official was appointed as defense minister back in June 2017. Shoigu's trip to Belgrade came the same day as a declaration from Bosnian Serb leader Milorad Dodik who revived talks of secession of the Bosnian entity of Republika Srbska from the federal state. And if the statelet broke off of Bosnia and Herzegovina, this could be a step towards its unification with Serbia. This would yet be tantamount to the biggest crisis in the Balkans in many years, with no more hope of saving the peace accords ending the war in Bosnia and Herzegovina.
Support Us
If content prepared by Warsaw Institute team is useful for you, please support our actions. Donations from private persons are necessary for the continuation of our mission.
Serbia maintains strong political, economic, and military relations with Russia even though it wants to join the European Union. Belgrade has refused to join Western sanctions on Russia for its annexation of Crimea from Ukraine. Russia does not recognize the statehood of Kosovo that declared independence from Serbia in 2008. Russia has sold Belgrade fighter jets, attack helicopters, and battle tanks. In October 2019, Serbia held joint air military exercises with Russia in which the Russian-made S-400 and Pantsir-S1 systems were deployed. Serbia will probably begin deliveries of the Pantsir-S1 anti-missile system later this year in a move that is likely to ignite strains in Belgrade's ties with the United States. Back in the autumn of 2019, when Belgrade was reported to purchase Russian-made military hardware, the U.S. special representative to the Western Balkans, Matthew Palmer, expressed concern about Serbian interest in Russian air defense systems, warning Belgrade to be "careful and cautious" about buying them. Also, the nation could be at risk of Washington's "revised sanction policy," he added.
All texts published by the Warsaw Institute Foundation may be disseminated on the condition that their origin is credited. Images may not be used without permission.