Russia Monitor is a review of the most important events related to Russian internal and external security, as well as its foreign policies.
Date: 26 April 2022 Author: Grzegorz Kuczyński
Russia's Lukoil Chief Alekperov Resigns
Russian billionaire Vagit Alekperov has resigned as CEO of Lukoil. The oil tycoon joined a handful of Russian business leaders that have departed their firms following the invasion of Ukraine and possible personnel reshuffles in Putin's Russia. Those who retire are long-serving senior officials, giving way to young technocrats who owe their careers to Vladimir Putin.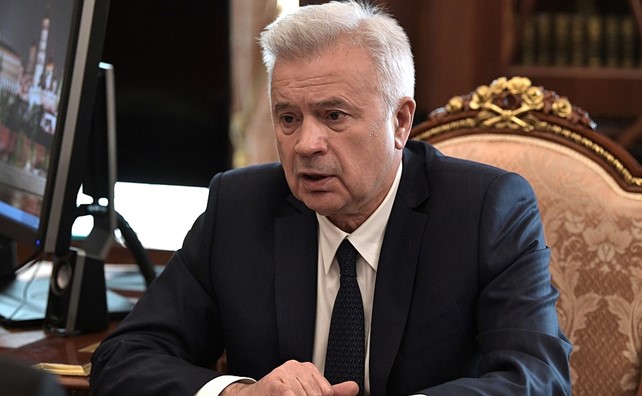 SOURCE:kremlin.ru
Veteran oil executive Vagit Alekperov resigned as the head of Russia's largest privately owned oil company Lukoil after thirty years. He also quit the company's management board, Lukoil said in a statement on April 21. The board of directors appointed Vadim Vorobyev, who has been the first executive vice president for twenty years, as its acting president. In June, a traditional shareholders' meeting will take place to formally appoint Vorobyev as a new CEO. The company did not disclose the reason for Alekperov's resignation. But the announcement comes just days after he was sanctioned. The resignation of the CEO who ran Lukoil since the company was founded may harm the firm. Lukoil fell as much as 6.7 percent as of April 21 in Moscow. Azeri-born Alekperov began his career in the oil business in the 1970s in Azerbaijan-based oil firms. In 1990, at 39, he moved up the ranks, eventually becoming the Soviet youngest-ever deputy minister for oil and gas industry. In 1991, three oil production companies, Langepasneftegaz, Uraineftegaz, and Kogalymneftegaz, were merged into a new company. Alekperov reformed a Soviet state oil corporation into privately run Lukoil in 1993. Back in the mid-1990s, a U.S.-based company bought a stake in the company. In 2000, Lukoil was added to the list of Fortune Global 500 companies. It has left its footprint in Russia, Europe, and Africa. In 2004 American oil company ConocoPhillips acquired a 20 percent share in Lukoil to eventually become its strategic partner. In 2012 Alekperov said 50 percent of the share was in foreign hands. On April 13, 2022, the UK sanctioned Alekperov, instructing banks to freeze his assets. The UK authorities also banned him from entering the country. As of March 31, Alekperov owned 3.12 percent voting shares and was the beneficiary of 5.43 percent of shares without voting rights. Alekperov occupies the tenth spot on the Forbes list of Russia's eighty-eight richest people. In 2022 his net worth reaches $10.5 billion. Vorobyev served as vice president and then president of Norsi-Oil, the oil company that merged with Lukoil back in 2001. Since 2005, he has been vice president in charge of petroleum products in Russia. In 2016 he was appointed vice president for oil refining and gas processing. In 2018 he was promoted as Lukoil's first executive vice president.
Support Us
If content prepared by Warsaw Institute team is useful for you, please support our actions. Donations from private persons are necessary for the continuation of our mission.
All texts published by the Warsaw Institute Foundation may be disseminated on the condition that their origin is credited. Images may not be used without permission.