Russia's Baltic Fleet Holds "Anniversary" Drills Near Baltic Coastline
The Baltic NATO member states have noted Russia's increased military activity around their borders in the second half of May. Russian jets were many times intercepted near the coastline of the Baltic States while a Baltic Fleet's brand-new Karakurt-class corvette, armed with Kalibr cruise missiles, approached the Latvian maritime border. This is linked to war games currently taking place in the Russian exclave of Kaliningrad, held under the pretext of the anniversary of the Baltic Fleet. Russian maneuvers were linked to NATO's Spring Storm military drills held in Estonia.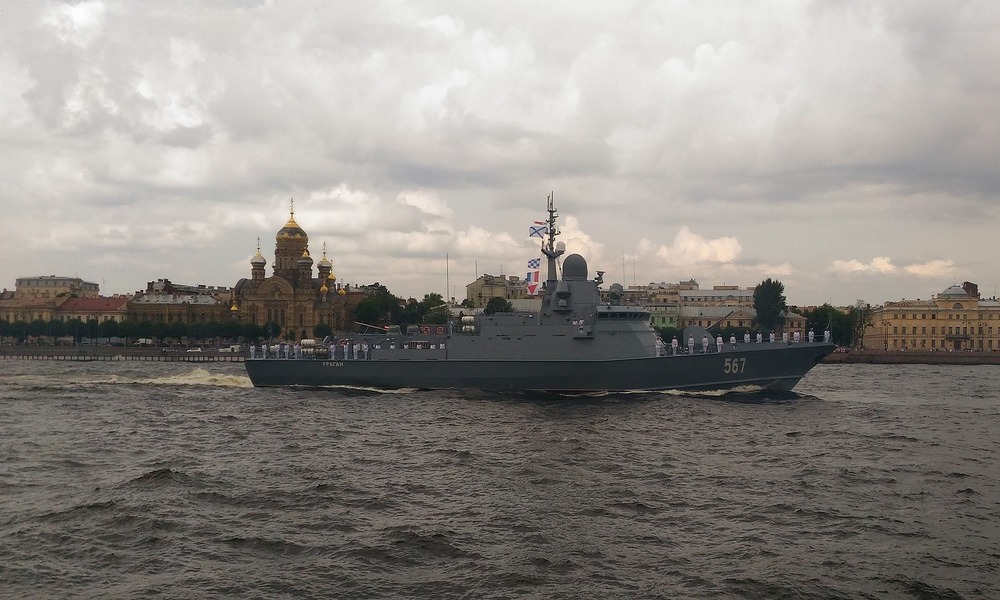 SOURCE: WIKIPEDIA.ORG
Lithuanian Defense Ministry said on May 20 that allied fighters involved in NATO's Baltic Air Policing mission were intercepted six times within a week to intercept Russian aircraft. As reported by the Lithuanian side, between May 13 and 19, NATO jets were scrambled once, three times and five times to intercept an Antonov An-26 military transport aircraft, an Ilyushin Il-22 electronic warfare plane and Sukhoi Su-27 fighter jets respectively. Further details were given by Britain's RAF command stationed at the Ämari Air Base in Estonia. On Tuesday, May 14, British Typhoon fighters were scrambled in response to two Russian Su-27 fighter aircraft and one Il-22 aircraft. They were flying along the Baltic coast and heading toward Kaliningrad. The Russian convoy was then observed by a group of Hungarian JAS-39 plane that had taken off from the Lithuanian base of Siauliai. On Wednesday, May 15, British jets were again deployed to intercept a pair of Sukhoi Su-27 fighters and an Ilyushin Il-22 aircraft. In addition to British and Hungarian warplanes, also Spanish F-16 jets are now stationed at the Lithuanian base of Siauliai to help defend the airspace of Lithuania, Latvia, and Estonia.
Support Us
If content prepared by Warsaw Institute team is useful for you, please support our actions. Donations from private persons are necessary for the continuation of our mission.
On May 19, a Russian warship was spotted near the Latvian border. "In the Latvian exclusive economic zone, 14 nautical miles from the territorial waters, the naval forces identified corvette Uragan of the Karakurt class with number 567 of the Russian Armed Forces," Latvia's National Armed Forces said in a statement. Identified by the Latvians as Mytishchi, the corvette formally entered military service in January 2019 at the Baltic Fleet's home base of Baltiysk (Kaliningrad Oblast). It is armed with Kalibr and Oniks cruise and anti-ship cruise missiles.
Russian jets, including Ilyushin Il-22PP electronic warfare planes, so far have made numerous flights over the Baltic States, probably in response to Spring Storm military drills in Estonia, which are soon coming to an end. Russian increased military activity in the southern Baltic region was also linked to the war games in the Kaliningrad Oblast. A series of military drills were held in the area to mark the 316th anniversary of the Baltic Fleet in the second half of May. On May 17, the Fleet's warships practiced combating enemy submarines while a day before its aviation conducted combat activities targeted against notional enemy's aircraft. The anniversary celebrations, including the military parade, took place on May 18 in Kaliningrad. The Baltic Fleet's military equipment has been systemically upgraded over the past few years. Incorporating the Karakurt-class corvettes into the Fleet's arsenal emerged as a significant event, enabling to boost the region's Anti-Access/Area Denial (A2/AD) capabilities. In January this year, the Baltic Fleet received MSTA-S self-propelled howitzers.
All texts published by the Warsaw Institute Foundation may be disseminated on the condition that their origin is credited. Images may not be used without permission.