Russia Monitor is a review of the most important events related to Russian internal and external security, as well as its foreign policies.
Date: 15 March 2022 Author: Grzegorz Kuczyński
Russian Invasion Of Ukraine: Russia To Bring Mercenaries To Ukraine
The Kremlin is reportedly fearful of suffering incalculable losses in conscripts and will possibly wage a lengthy and bloody war against Ukraine. This is perhaps why Moscow is seeking to hire thousands of mercenaries––mostly from Syria––and send them to Ukraine. Making this statement public means that the Kremlin's strategy is to intimidate people in Ukraine by painting a picture of ruthless Muslim warlords who arrived in the war-torn country to terrorize civilians.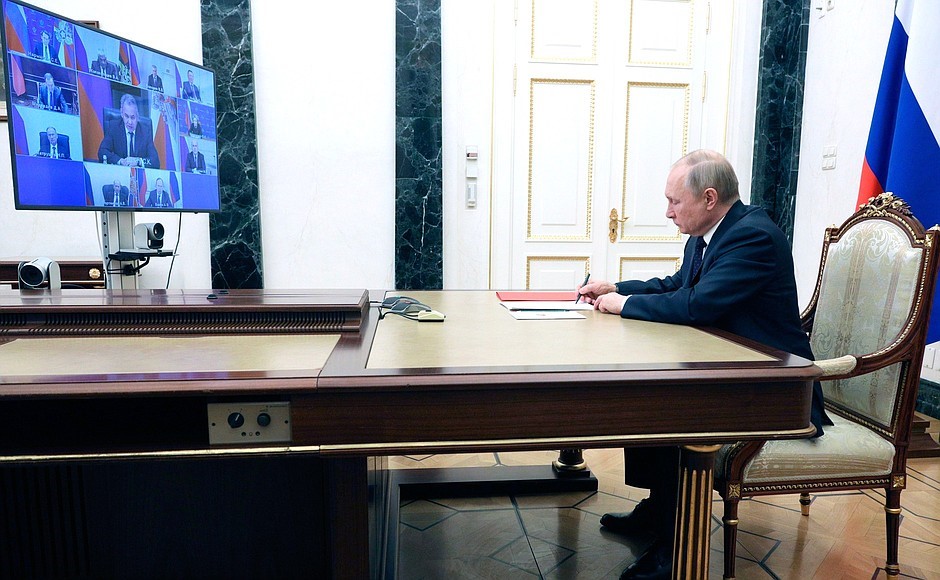 SOURCE: kremlin.ru
The Russian president Vladimir Putin on March 11 gave orders allowing fighters from the Middle East to be deployed in the war. At the Security Council meeting, Russian defense minister Sergei Shoigu said there were 16,000 volunteers in the Middle East who were ready to come to fight with Russian-backed forces in Donbas. "If you see that there are these people who want to come to help the people living in Donbas, then we need to give them what they want and help them get to the conflict zone," Putin said. The Ukrainian military intelligence agency said Russia had opened recruitment centers for mercenaries in Syria. Russia is likely to bring mercenaries into Moscow by plane before deploying them to Ukraine. Before, they were reportedly brought to a Russian military base in Armenia, Russia's North Caucasus, and then Ukraine. Russia is reportedly sending Syrian mercenaries from Libya, where they fought with Gen Khalifa Haftar against the Tripoli government. Despite what is said about their purportedly rich experience in urban warfare, Syrian mercenaries are little useful in a clash with any conventional army. By bringing hired guns to Ukraine, Russian forces are seeking to add to the battlefield more experienced fighters than young non-trained conscripts. The most possible explanation for this is that Russia is seeking to use mercenaries from the Middle East to terrify civilians in Ukraine. In addition to rockets and air raids targeting civilian infrastructure, including residential areas and hospitals, the Kremlin will now send thousands of fighters who do not share the common culture, language, or religion and who are ready to commit the most dreadful atrocities. Perhaps mercenaries from Syria and Libya would be sitting ducks for a localized insurgency along with the Wagner Group and forces loyal to Chechnya's Ramzan Kadyrov.
Support Us
If content prepared by Warsaw Institute team is useful for you, please support our actions. Donations from private persons are necessary for the continuation of our mission.
All texts published by the Warsaw Institute Foundation may be disseminated on the condition that their origin is credited. Images may not be used without permission.