Russian Game within OPEC+ Structures
The group of OPEC members and other oil producers, including Russia, intends to reduce the total oil output in response to a sharp decline in the resource's prices. The agreement adopted in early December acts to the benefit of Moscow while being much less favorable for OPEC's smaller producers. This is chiefly due to the Kremlin's more powerful negotiating position. Russian firms are unlikely to be affected by such drop in oil prices as Russia's tax system and the rouble's weak exchange rate make such giants as Rosneft more resilient to similar problems on the market. OPEC and Russia account altogether for more than half of the world's oil production.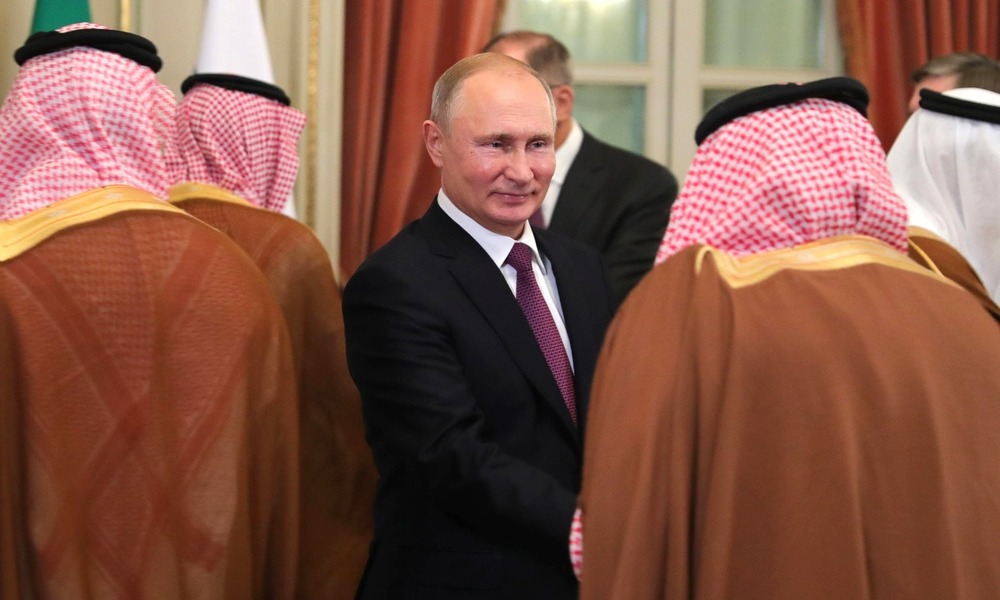 SOURCE: KREMLIN.RU
In early December, OPEC+ agreed to limit its oil output by 1.2 billion barrels per day, starting from January 2019. Non-OPEC members include Russia, Mexico, Azerbaijan and Kazakhstan, a total of 25 countries. The OPEC+ group was founded in 2016 once its member states concluded the first agreement on limiting oil extraction. Yet the Russian-Saudi duo is at the forefront of the organization, with Moscow intending to strengthen its position. The oil alliance is doing well as evidenced by cordial talks between Russian President Vladimir Putin and Saudi Crown Prince Mohammed bin Salman behind the scenes of the G-20 summit in Buenos Aires. During the meeting, the latter reaffirmed his country's commitment to a future within OPEC+. However, a few days after his political declaration, all member states needed to discuss purely economic issues.
Saudi Arabia, OPEC's informal leader, urged Russia to significantly reduce its hitherto oil output to prevent further drops in prices. These essentially come as a result of intensified production by the world's leaders. Since October, oil prices decreased by one-third while as early as at the beginning of December a barrel of Brent crude oil hit all-year low under 60 dollars. During the 175th Meeting of the OPEC Conference, held on December 6-7 in Vienna, member states reached an agreement to cut output. And yet this issue needed to be agreed with Russia. During the two-day summit in Vienna, Russia's Energy Minister Alexander Novak made a short flight to Russia in order to meet Putin and discuss Moscow's involvement in reducing oil output.
Finally, OPEC and their non-OPEC allies determined to cut production by 1.2 million barrels per day. In the light of the deal, OPEC members are bound to reduce its output by 800,000 barrels per day while Russia and non-OPEC countries committed themselves to decrease production by 400,000 barrels. Furthermore, they accepted the October 2018 production level as a baseline. According to the agreement, OPEC countries may cut crude output by 3 percent while their allies are expected to reduce supply by 2 percent. Iran, Libya, and Venezuela have all secured the cutting oil production under the deal.
Riyad aims to tighten its cooperation with Moscow while making it more institutionalized, which was rather strongly regretted by OPEC's smaller members as they feel marginalized. Yet it was Russia that managed to do the best deal. It agreed to cut output by 230,000 barrels a day from its October output level of 11.42 million. In such a manner, that would reduce its production to 11.19 million barrels a day. This is only 15,000 barrels below its initial 2016 baseline, thus when OPEC+ was founded, meaning a cut of just 1 percent. Contrast that with OPEC member Algeria, which produces around a tenth as much oil as Russia, is now expected to produce 1.023 million barrels a day. That is a cut of 66,000 per day or 6.1 percent below the 2016 baseline when OPEC+ was established.
Russian firms may even find it profitable to limit oil output; due to weather conditions, oil production in Russia traditionally hits its low between March and May. Last year was very successful for Russian companies. Oil's all-time high stems from rising prices, as they reached the top in the autumn of this year, and reduced production due to OPEC+ regulations adopted in June. Combined profit of Russia's three largest companies jumped by 40 percent, amounting to 13.9 trillion roubles. The net profit has almost doubled as it hit as much as 1.2 trillion roubles. Rosneft, the country's most indebted company, took advantage of the cash inflow to reduce its financial liabilities by 12 billion dollars. Given Russia's current tax system and the rouble's weak exchange rate, companies may be able to withstand extremely low oil prices, which amount even to 15 dollars per barrel, even for many years. Naturally, this will look different if one takes into account the state budget. Russian Finance Minister Anton Siluanov said that Russia will need an oil price of about $40 a barrel to balance its budget in 2019.
All texts published by the Warsaw Institute Foundation may be disseminated on the condition that their origin is credited. Images may not be used without permission.