Russia Monitor is a review of the most important events related to Russian internal and external security, as well as its foreign policies.
Date: 13 May 2022 Author: Grzegorz Kuczyński
Russia Targets Ukrainian Energy Facilities, Attacks Refineries, Siphons Off Gas
Kyiv halted the use of a major transit route blaming interference by occupying Russian forces, the first time exports via Ukraine have been disrupted since the invasion. Kyiv says Russia intensifying its assault with attacks reported on oil facilities. The goal is to curb the fuel supplies available and cripple the whole economy.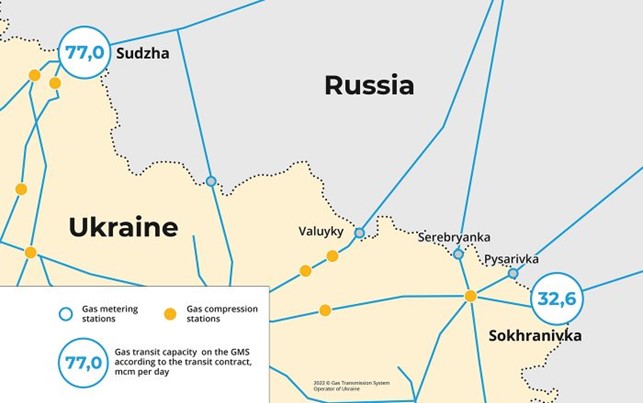 SOURCE:tsoua.com
Yuriy Vitrenko, head of the state energy company Naftogaz, on May 11 said the gas flow via Ukraine was "limited." The Ukrainian gas system operator shut a gas route running from Russia into Europe after the pipeline operator said Russian shipments through its Novopskov hub, in an area controlled by Moscow-backed separatists, would be cut as the Russians diverted them to the so-called people's republics in Luhansk and Donetsk through the Sokhranivka transit point. Ukraine asked Gazprom to divert gas flows via the Sokhranivka point, which is between Ukraine's Luhansk and Russia's Rostov regions, northwards to Sudzha––on the border between the Sumy (Ukraine) and Kursk (Russia) regions. There is no heavy fighting in the Ukraine-controlled area. Gazprom yet says it is not technically possible to shift all volumes to the route. So there is only one point in Ukraine's Sudzha through which gas is pumped via Ukraine into Europe. Russia's Gazprom said the security of gas supplies has been undermined by Ukraine shutting one entry point for Russian gas transit to Europe. But volumes were seen at 72 million cubic meters on May 10, down from 88.2 mcm on May 11. Back on May 2, this stood at 98 mcm. Gas is pumped by the Sudzha entry point only. Once the Sokhranivka point is shut, up to a third of Europe's gas supplies could be disrupted, according to Ukraine's gas system operator. In consequence, Ukraine's budget will see more modest transit fees. But what grapples Ukraine most is Russian attacks on oil and fuel facilities throughout Ukraine. In April Russian forces fired missiles at the refinery in the central Ukrainian city of Kremenchuk. In May they attacked the country's second-largest refinery in Lysychansk in the Luhansk region. The fiercest fighting takes place in Ukraine's fuel-richest region––in the northern part of the Luhansk oblast. Russian forces target both refineries and oil storage facilities. According to the Kyiv School of Economics estimates, the total amount of direct damage caused by Russia's ongoing war stood at $227 million as of May 10. Fuel prices in many gas stations in Ukraine are now higher than in neighboring Poland. Interestingly, Ukraine has always been one of Europe's cheapest countries for fuel and gas.
Support Us
If content prepared by Warsaw Institute team is useful for you, please support our actions. Donations from private persons are necessary for the continuation of our mission.
All texts published by the Warsaw Institute Foundation may be disseminated on the condition that their origin is credited. Images may not be used without permission.