Russia Monitor is a review of the most important events related to Russian internal and external security, as well as its foreign policies.
Russia Stiffens Stance On The Taliban
Moscow's recent decisions show it hesitates whether the Taliban will meet their commitments to stop the Islamic expansions northwards to Central Asian countries. The Russian military is beefing up its Tajik base, Vladimir Putin says Islamic factions could "infiltrate" the region while the country's deputy foreign minister adds that Moscow is not racing to recognize the Taliban as Afghanistan's rulers.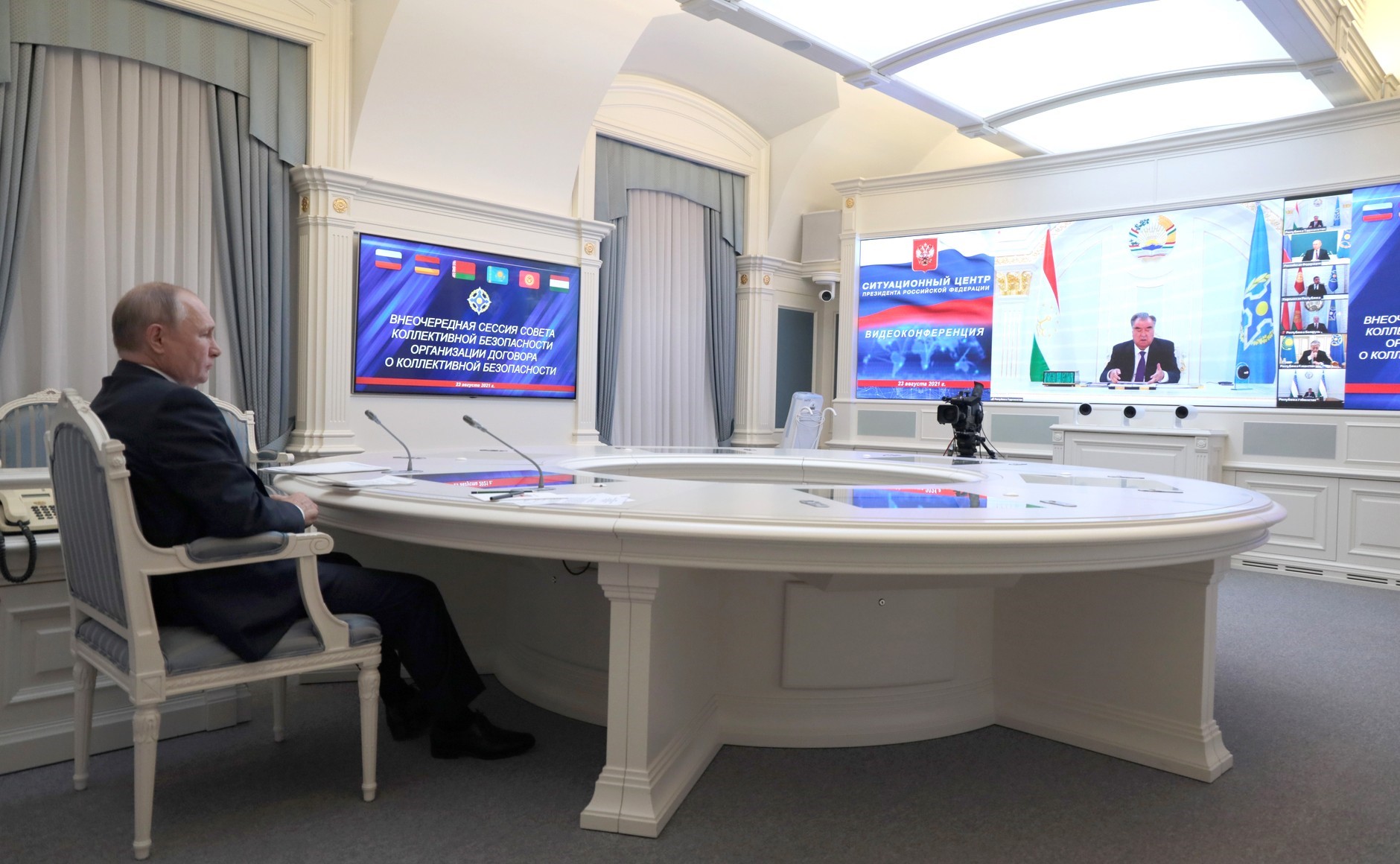 SOURCE: KREMLIN.RU
On August 25, Russia deployed a number of T-72 tanks from the 201st military base in Tajikistan and practiced long-range firing at moving targets. This is another Russian military drill in Tajikistan. On August 23, Russian troops took part in drills in the mountainous part of the country to where they moved combat and transport helicopters. The latest Kornet anti-tank missile systems have reinforced the Russian military base stationed in Tajikistan, the press office of Russia's Central Military District reported on August 24. Moscow maintains its largest foreign military base in Tajikistan. Russia has troops stationed at two facilities in Tajikistan — Dushanbe and Bokhtar south of the capital. Russia has called for joint action with its allies in Central Asia to prepare for potential security threats from the Taliban who had taken control of Afghanistan. Russia is ready to supply weapons and military hardware to its allies in the CSTO security bloc that border Afghanistan at special low prices, Russia's deputy prime minister Yury Borisov told journalists on August 23. On the day, an online summit of the Collective Security Treaty Organization (CSTO) took place, too. The event was closed to the media. Russian President Vladimir Putin told Central Asian leaders that it is vital to avoid any spillover of radical Islam from Afghanistan into the region. Kremlin spokesman Dmitry Peskov on August 25 said Afghanistan is at particularly high risk of terrorism due to Islamic State rebels in the country. Russia said it would not meddle in the clash between the Taliban and protesters in the country's northeast. Oleg Syromolotov, Russia's incumbent deputy foreign minister in charge of combatting terrorism and former FSB deputy director and senior KGB officer, said Russia has no plans of sending a military contingent to Afghanistan. Nonetheless, he added Russia will be unlikely to move quickly to formally recognize their government nor remove the Taliban from its list of terrorists.
Support Us
If content prepared by Warsaw Institute team is useful for you, please support our actions. Donations from private persons are necessary for the continuation of our mission.
All texts published by the Warsaw Institute Foundation may be disseminated on the condition that their origin is credited. Images may not be used without permission.