Russia Monitor is a review of the most important events related to Russian internal and external security, as well as its foreign policies.
Date: 12 April 2022 Author: Grzegorz Kuczyński
Russia Is Seeking To Encircle Ukraine's Donbas
Ukraine, the United States, and NATO say that Russia is nearing a significant new offensive in the eastern Donbas region. Russia regrouped troops that failed to seize Chernihiv, Kharkiv, Sumy, or Kyiv––the country's capital. Now it shifts its offensive east to cut off Ukrainian forces in Donbas. In addition to capturing the whole regions of Donetsk and Luhansk, Russians are seeking to break Ukrainian morale. Ukrainian forces stationed in the Donbas are the best trained and equipped units.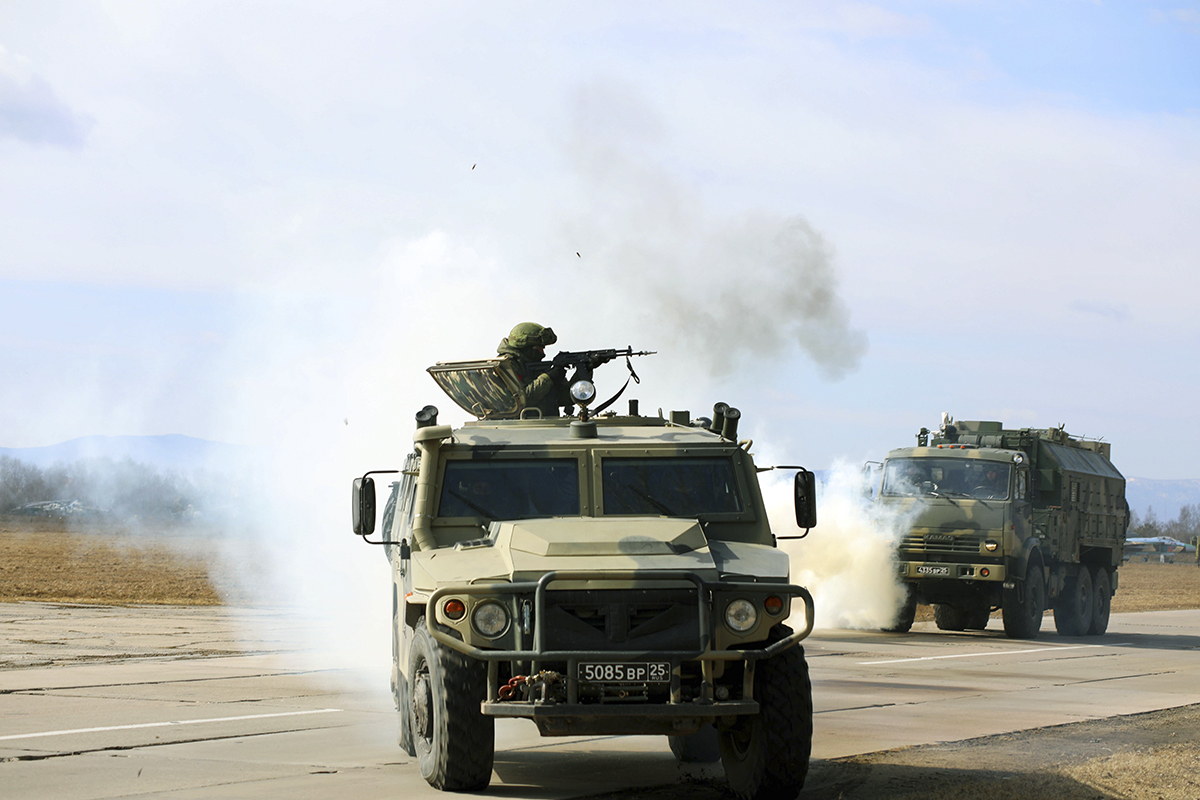 SOURCE:мультимедиа.минобороны.рф
Russia is planning to dispatch to Donbas twice as many troops as Ukraine. Between 70,000 and 90,000 Russian soldiers will advance towards 40,000–50,000 Ukrainians. But the aggressor may not unlock its full battle potential. About 20,000 Russian soldiers are expected to advance Ukrainian positions. Russian troops will hold an advantage in the air while most fighting will take place in rural areas, far from urban centers. One exception is fortified cities in the Luhansk region (Severodonetsk, Lysychansk, Popasna, and Rubizhne) and the two more cities in the Donetsk region––Sloviansk and Kramatorsk. If Russians are planning to encircle Ukrainian forces––as the latter fight in the Kyiv-controlled northern part of the Luhansk region––it will be crucial for them to advance from the northern town Izium southwards to capture Sloviansk and Kramatorsk. The two cities are key for Ukrainian defense forces in Kyiv-held Donbas. But what could make the whole operation successful is military reinforcements from the south––the city of Popasna and the Azov Sea port of Mariupol. But Russian troops are not yet ready to advance there as Ukrainian forces in Mariupol have blocked at least 10,000 Russian personnel––albeit for a short time. Mariupol is important to Russian forces––for a couple of reasons. In 2014, the city withstood brief occupation by pro-Russian forces. In addition, Moscow needs a stable and safe land corridor from Crimea to the southern Russian city of Rostov-on-Don. Furthermore, Russia is seeking to effectively seize the Sea of Azov. Last but not least, after a failed capture of Mariupol, Russia could not take control of the whole Donbas and advance towards Zaporizhia and the Dnieper––if not now, possibly in the summer.
Support Us
If content prepared by Warsaw Institute team is useful for you, please support our actions. Donations from private persons are necessary for the continuation of our mission.
All texts published by the Warsaw Institute Foundation may be disseminated on the condition that their origin is credited. Images may not be used without permission.