Putin Dismisses Nine High-Ranking Generals
Russian President Vladimir Putin has signed a decree on dismissing nearly a dozen of senior military officials that held governmental positions. Most changes affected Russia's Ministry and the Investigative Committee of Russia (ICR) where sacked officials were in charge of conducting high-profile investigations. Massive purges are likely to come as an immediate aftermath of arresting Russian officials, "siloviki" (members of security services police and armed forces) and businessmen on corruption charges, an example of which was detaining people who had close links to the Arashukov family.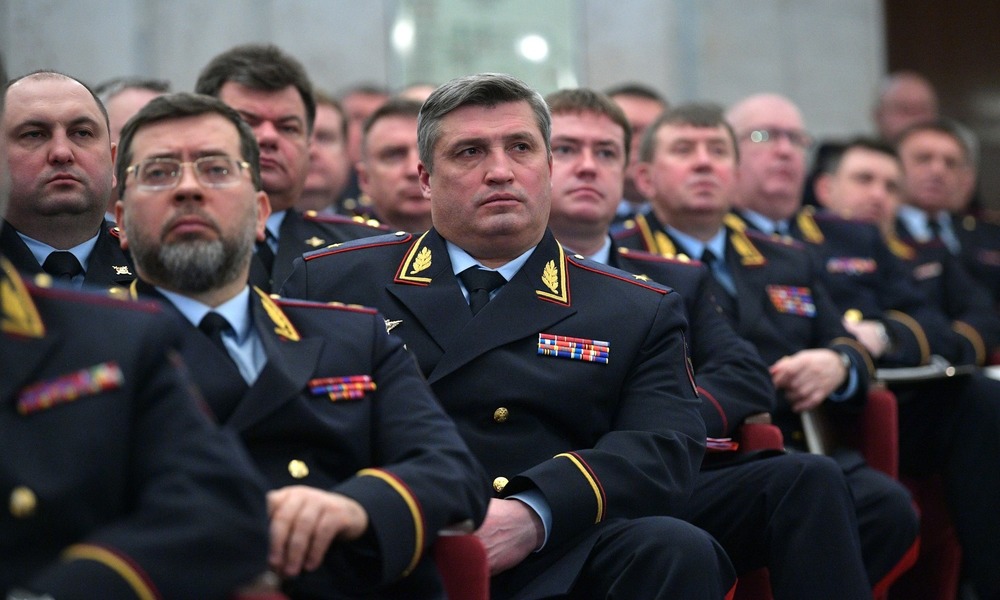 SOURCE: KREMLIN.RU
Subject to a presidential decree published on February 8, 2019, Vladimir Putin replaced senior officials who held high-level positions in the Investigative Committee and ministries of Interior and Emergency Situations. as a result of which nine generals and two colonels were sacked. Most importantly the chief of the directorate to prevent corruption in Moscow's police force has been fired while the further list of dismissed officials includes General Sergei Solopov who earlier had been forced to retire as he had refused to assume a different position. Similarly, General Irina Zeibert has been relieved from the post of a senior aide of the Chairperson of the Investigative Committee of Russia, Alexander Bastrykin, and Sergey Umnov, who has served as chief of St Petersburg and Leningrad region police since March 2012, was recently appointed aide to Interior Deputy Minister Vladimir Kolokoltsev. Further, Putin replaced the Head of the Main Directorate of the Ministry of Internal Affairs for Countering Extremism, Major General Timur Valiulin with General Oleg Ilinykh, which was due to an undeclared property in Bulgaria owned by the former. As for acting Russian Interior Ministry's Migration Department General Valentina Kazakova, she has been officially assigned to the post while a month earlier, she had been appointed to replace Olga Kirillova. Particular attention should be paid to a designation of Colonel Edouard Filippov to a position of First Deputy to the Head of General Administration for Economic Security and Combating the Corruption of the Russian MIA; as a commander of the Moscow Region Spetsnaz unit, Filippov was awarded for conducting special operations in the North Caucasus.
Also, the Moscow Region head of the Investigative Committee of Russia Andrei Markov left his post after 11 years as he was transferred to a less influential position in the Committee headquarters. A promotion was awarded to Sergey Novikov, who so far was responsible for leading investigation in the high-profile corruption case in the General Administration for Economic Security and Combating the Corruption of the Russian MIA. Interestingly, Denis Sugrobov, the former head of the institution and its youngest general, is the main defendant in the case. In this manner, General Novikov was assigned to a post of senior investigator accounting for top cases in the Investigative Committee. With the decree, Vladimir Putin sealed twenty personnel changes in the Ministry of Interior, seven in the Investigative Committee and several substitutions in the Ministry of Emergency Situation and the prosecutor's office.
All texts published by the Warsaw Institute Foundation may be disseminated on the condition that their origin is credited. Images may not be used without permission.