Putin Announces New Missiles as Russia and US Get Involved in Arms Race
This was to be expected: U.S. decision to withdraw from the landmark INF Treaty was followed by the Kremlin's same step. Russian President Vladimir Putin informed on February 2 that this country intends to suspend its obligations under the arms control deal while saying he had recommended expanding Russia's medium-range missile arsenal, including advanced works on a brand-new supersonic nuclear missile system. Final results of a joint meeting of the Kremlin officials and foreign and defense ministers are first and foremost of propaganda character. Putin needed to take a firm stance, which is both a signal for the Russian public and an element of his game with the West. While making an attempt to scare the world with a new arms race, the Kremlin seeks to embolden discrepancies between Washington and some EU states that still call for saving the arms control deal even though they apparently accepted the U.S. step.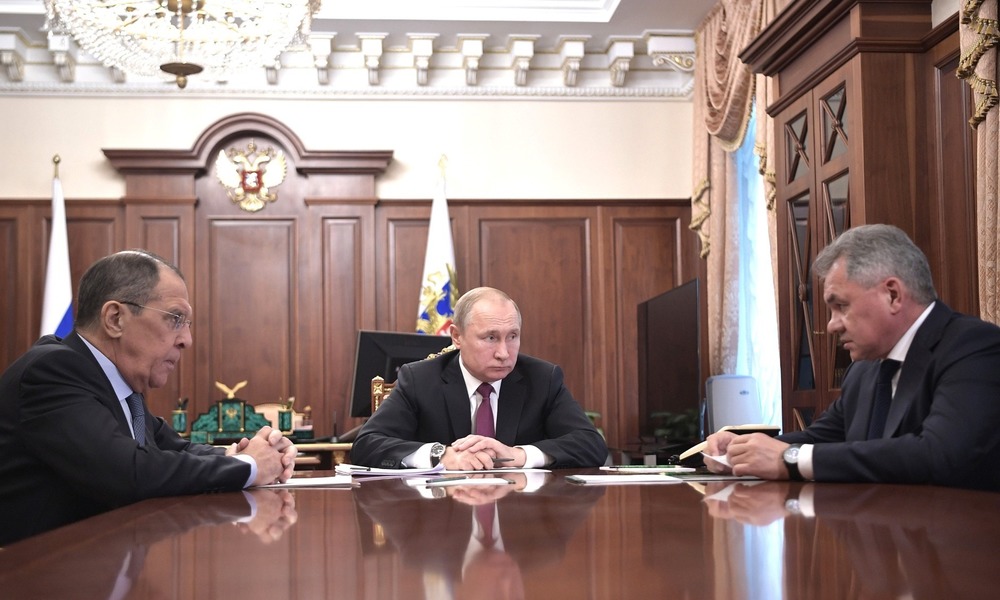 SOURCE: KREMLIN.RU
As we wrote a few days ago, last-ditch talks, which were held in Beijing to save the landmark INF treaty, failed to bring any results. The Trump administration announced on February 1 its intention to launch a procedure to quit the deal starting from February 2. Now the Russian side needs to return to comply with the agreement within the six-month withdrawal period. Naturally, Moscow does not intend to do so as the Russian army has already been equipped with 9M729 Novator nuclear-capable cruise missiles that constitute a blatant breach to the INF deal. Also the same day, President Vladimir Putin convened a meeting of the Security Council of the Russian Federation, during which specific decisions on how to deal with U.S. current activities needed to be made. The public was informed only the next day when President Putin announced Russia's plan to quit the agreement, a statement that came during a meeting with Sergey Lavrov and Sergei Shoigu. He also urged both ministries not to initiate U.S.-Russian talks on this matter; instead, Russia will start working on its medium-range missiles, which is a lie as Moscow has long developed such plans.
During the meeting, the Russian officials announced it had already launched further works on a supersonic medium-range ground-based missile. President said also he agrees with Shoigu's proposals to create a land-based version of the Kalibr launchers. Much more is said about Moscow's intention to build a new medium-range hypersonic missile. Russian army may revive the upgraded versions of the famous SS-20 missile and the 3M22 Zircon hypersonic missiles as well as conduct further works on the RS-26 Rubezh ICBM or build new variants of R-500 and Kinhzal missiles, Russian media quoted experts as saying. Creating of a new missile may take up to a year and a half, experts claim.
All texts published by the Warsaw Institute Foundation may be disseminated on the condition that their origin is credited. Images may not be used without permission.