Russia Monitor is a review of the most important events related to Russian internal and external security, as well as its foreign policies.
Patrushev Accuses, Ryabkov Threatens: Will Russia Force U.S. Into Concessions?
Russia's Security Council Secretary Nikolai Patrushev accused Washington of meddling in the recent State Duma elections and fueling tensions between Russia, Ukraine, and Georgia. For his part, Deputy Foreign Minister Sergei Ryabkov said there was a risk that U.S.-Russian relations could worsen, a comment he made during the visit of U.S. Undersecretary of State Victoria Nuland to Moscow. This was the first top-level U.S.-Russia meeting since a summit in Geneva where the presidents of the United States and Russia held talks.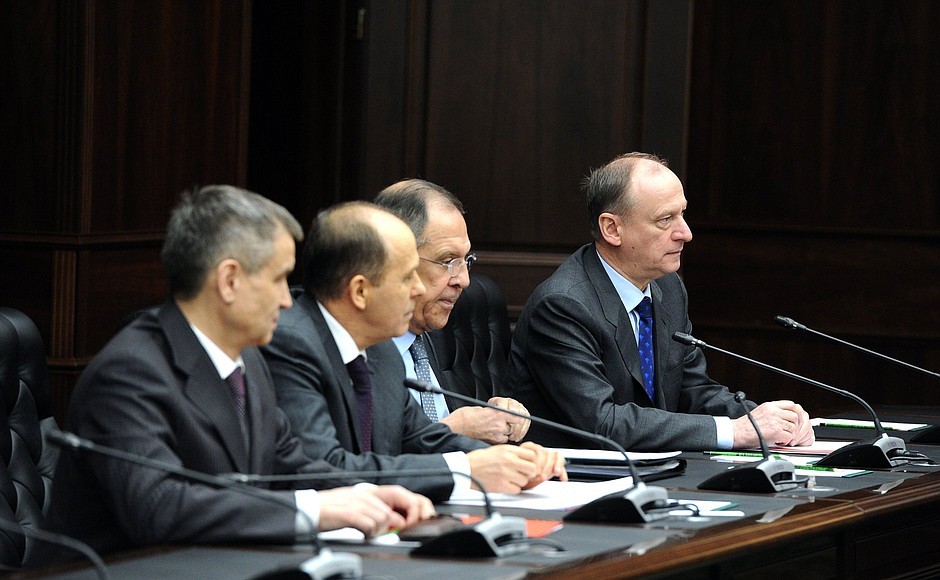 SOURCE: KREMLIN.RU
Patrushev voiced his harsh criticism of the United States at the opening of the 17th conference of CIS security and intelligence chiefs on intelligence activity. A close Putin associate, Nikolai Patrushev, the secretary of Russia's Security Council and a former director of the FSB, said the United States was implementing a course towards stimulating Russia's economic and cultural disengagement with Ukraine and Georgia. According to him, Washington continues to meddle in Russia's domestic affairs, including the recent State Duma elections in September this year. Patrushev scolded the United States on the third day of Nuland's visit to Moscow, before she met with Putin's aide Yuri Ushakov and Kremlin deputy chief of staff Dmitry Kozak. Nuland spoke to the deputy foreign minister just the day before that. "I cannot say that we have achieved great progress," Ryabkov said after the meeting. "There is a risk of a further sharpening of tensions if we do not normalize the work of our diplomatic missions," he added. Ryabkov warned that Moscow would like to avoid this scenario but does not rule out freezing the work of the diplomatic missions. Russia's very tough stance in talks with Washington confirms that the Kremlin's goal remains to regulate nuclear issues with the United States, but Moscow is not keen on any political compromise. Through accusations and unfulfilled conditions, Russia will be able to keep its ties with Washington at the poor level as they now are. It could bring bigger political gains, according to the Kremlin.
Support Us
If content prepared by Warsaw Institute team is useful for you, please support our actions. Donations from private persons are necessary for the continuation of our mission.
All texts published by the Warsaw Institute Foundation may be disseminated on the condition that their origin is credited. Images may not be used without permission.