Open Lecture "History Matters – Why Independence is so Important for Poles?"
On December 17, 2018, the lecture "History Matters – Why Independence is so Important for Poles?" was held by the Warsaw Institute. The lecture was addressed to new employees of embassies and foreign students staying and studying in Poland.
The aim of the lecture was to present and familiarize foreign guests with why the 100th anniversary of regaining independence by Poland is such a special event for Poles. At the beginning, the participants of the lecture became acquainted with the most important events in Polish history.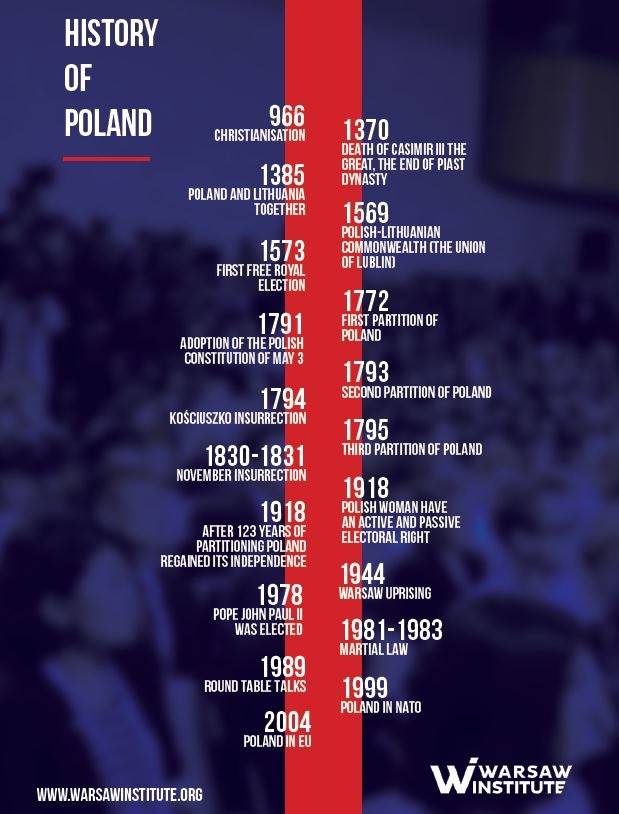 source: WARSAW INSTITUTE
The most important part of the meeting was the presentation of events and phenomena from the last century of our history such as: regaining independence after 123 years of partitions, women's electoral rights, the issue of national minorities in the Parliament, Polish road to NATO and the European Union, and the formation of contemporary Polish parliamentarism. The meeting was enriched with the presentation of works by the most outstanding Polish artists.
The last part of the meeting was a session of questions from the participants. Visitors from around the world had the opportunity to learn more about Polish history. They showed the greatest interest in the history of partitions and national uprisings, which over generations shaped the Polish spirit of patriotism. Many guests also shared extremely interesting experiences from the history of their countries, showing similarities and differences to the history of Poland.
The meeting was prepared and carried out in cooperation with prof. Agnieszka Rothert and dr Renata Mieńkowska-Norkiene, scientific employees of the Faculty of Political Science and International Studies at the University of Warsaw.
The program was co-financed from the funds of the Civic Initiatives Fund Program 2018.