Kozak-Yermak Plan on Donbas: A Trap for Ukraine
Ukrainian President Volodymyr Zelensky, who is well aware of his dropping popularity ratings, is making efforts to reshuffle both the government and his presidential administration. For its part, the Kremlin is looking to take advantage of an increasingly severe crisis in Kyiv. Interestingly, those who are now Russia's top allies in Ukraine are both the leader of the country's biggest pro-Russian party and, quite unexpectedly, the head of the Ukrainian President's Office. On March 11, Andriy Yermak accepted a plan to establish an advisory board in Russian-occupied Donbas in a move that hints Kyiv's recognition of the zone's separatist authorities. A day before Viktor Medvedchuk suggested that the Normandy Format be broadened to include a parliamentary dimension. Zelensky is unable to take action as he needs to team up with Medvedchuk's party to hold critical votes in the parliament.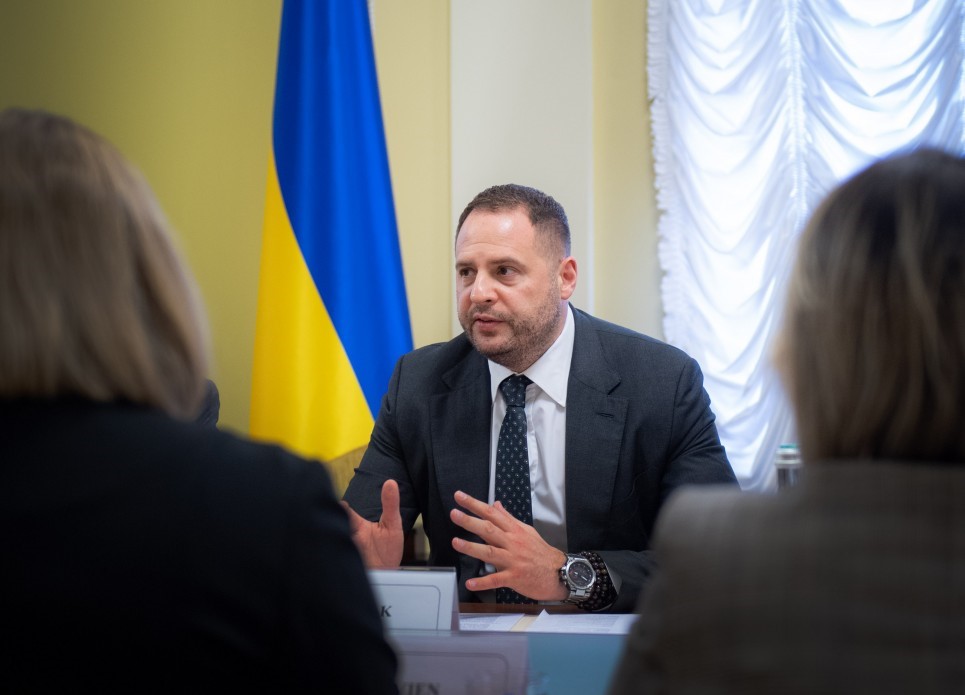 SOURCE: PRESIDENT.GOV.UA
For the time being, thus amid the coronavirus outbreak, the Ukrainian leader is forced to wait a while before making a decision that would pave Moscow's way for further concessions, leading to Moscow-devised peace solutions that may not necessarily bring profits to Kyiv. Back in February, both Russia and Ukraine added new chief negotiators. Ukrainian President Volodymyr Zelensky's Chief of Staff, Andrey Yermak, is a former film producer, while Dmitry Kozak, a successor of Vladislav Surkov, now serves as Putin's new point man for Ukraine. This was meant to ease one's policies towards another, and this is precisely what is taking place, though to the benefit of Moscow. At the Contact Group's meeting, on March 11, in Minsk, Belarus, Russia's presidential envoy, Dmitry Kozak, and the Ukrainian presidential envoy, Andriy Yermak, agreed to establish what they named the Consultative Council, or a platform that would officially cast the Ukrainian side and Russia's proxies in Donetsk and Luhansk. Russia is positioned officially as an impartial observer, and so are Germany and France, while the OSCE would mediate in talks. Once it takes effect, the solution will mean a great deal for the Kremlin. Namely, Kyiv will pull out of its current rule of not holding direct talks with the separatists. And thus, this move would somewhat empower the "people's republics." Secondly, with such a state of affairs, Russia could further push for its thesis on "Ukraine's civil war" that it has long promoted, basically since the conflict broke out. Thirdly, bringing the war to nothing but Kyiv's internal spat will allow Moscow to ask Western countries to ease sanctions, as, in its eyes, Moscow is not an aggressor.
Support Us
If content prepared by Warsaw Institute team is useful for you, please support our actions. Donations from private persons are necessary for the continuation of our mission.
Though agreed back on March 11, the documents were kept secret, pending the final approval that was expected on March 25 but did not emerge. However, the documents' full text leaked to the Ukrainian media, sparking general turmoil. Ukraine's opposition parties have accused Zelensky and Yermak of betrayal, while some presidential officials are against holding talks with separatists. While Yermak defended the plan, Zelensky remained silent. Another factor is the fast-moving coronavirus crisis, with the entire case having been put aside amid concerns over the COVID-19 pandemic. The March 25 did not take place, while, during a videoconference, the Ukrainian negotiating team said it would not confirm the deal, at least for the time being. Although Zelensky bought some time, it is not sure whether he will pull out of the controversial agreement. With the crisis and plummeting prices, the Ukrainian leader is setting eyes on tremendous success, and he is still dreaming of bringing peace back to Donbas. This is also what most Ukrainians still want to materialize. But in order to push constitutional amendments, the president's party needs to find a credible ally. What may seem obvious choice is Medvedchuk's Opposition Platform-For Life, whose leader is Putin's top key ally in Ukraine. On the eve of the Yermak-Kozak meeting in Minsk, a delegation of Ukrainian opposition deputies, headed by Medvedchuk, paid a visit to Russia's State Duma and the Kremlin. While in Moscow, the pro-Russian politician put forward some ideas on behalf of his country's parliament that yet go far beyond his powers. But Ukraine's president seems to have turned a blind eye on Medvedchuk's proposals as it needs to side with pro-Kremlin deputies to gain a majority in the Verkhovna Rada. And yet there is no doubt that this will be a costly business for the president.
All texts published by the Warsaw Institute Foundation may be disseminated on the condition that their origin is credited. Images may not be used without permission.