Date: 25 October 2022 Author: Mariusz Patey
More Than Home Army Soldiers: Various Concepts of Independence Struggle After 1939 Defensive War. The Biographies of Irena Iłłakowiczowa and Klementyna Mańkowska pt.3
This article discusses the Military Organization Lizard Union (Organizacja Wojskowa Związek Jaszczurczy, OW ZJ) and the Musketeers (Muszkieterzy)––Poland's World War II resistance movement that both fought Nazi Germany and the Soviet Union, albeit are little known to the public. This paper also recounts the biographies of two Polish female intelligence officers––Irena Iłłakowiczowa and Klementyna Mańkowska. The author attempted to depict varying ways to fight for freedom while not giving any hasty assessment.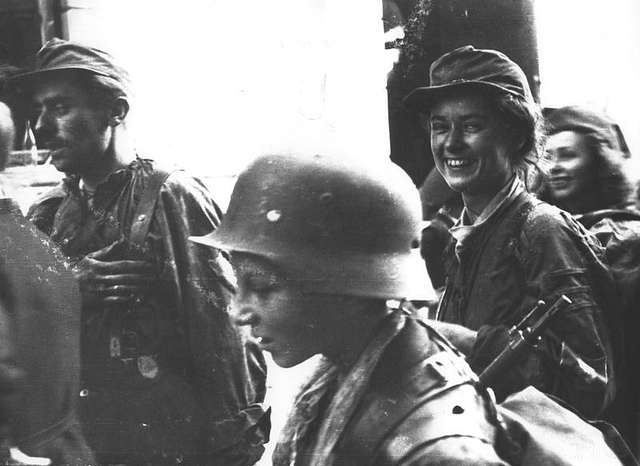 SOURCE: HTTPS://GARYSTOCKBRIDGE617.GETARCHIVE.NET (NARODOWE ARCHIWUM CYFROWE POLAND)
The Musketeers – Traitors, Patriots, or Insightful Strategists?
Independent of the Union of Armed Struggle–Home Army, the elite intelligence outlet was formed by engineer-turned-soldier Stefan Witkowski, as part of the grouping led by Gen. Franciszek Kleeberg. The name came from a musket-like anti-tank rifle that Witkowski had invented. The gun was widely used by the Polesie Group soldiers.
According to some historians, the Musketeers launched a game to make an anti-Soviet deal with Nazi Germany when the latter invaded the Soviet Union in 1941. They watched closely the puppet government in Slovakia and southern France to wonder whether it could be a good option to strike a deal with Nazi Germany to save millions of Poles under the Nazi occupation.
Amid a rapprochement between the Soviet Union and the Allies, they assumed the best-case scenario for Poland would encompass the victory of the allied states in the west while Nazi Germany would stick to the eastern front. Yet there is no sufficient evidence base in historical sources. Notwithstanding that, they made contact with Edward Rydz-Śmigły––back then interned in Hungary––and former prime minister Leon Kozłowski. Perhaps before a new role was envisaged for Rydz-Śmigły, Colonel Marian Steifer, through his contacts in Hungary, probed into whether Nazi German officials were ready to form a puppet government in Poland. In October 1941 Rydz-Śmigły reached occupied Poland. In December, as the Germans knew about it, Witkowski sent his closest associates, Cavalry Officer Czesław Szadkowski, Second Lieutenant Czesław Wasilewski, Lieutenant Kazimierz Rutkowski, and Officer Cadet Antoni Pohoski on a secret mission to the Soviet town of Buzuluk, where Anders resided at that time. They were to pass an order to start anti-Soviet Polish-German cooperation, allegedly issued by Rydz-Śmigły. This incident speeded up Stalin's permission to evacuate Anders's Army to Iran.
The dictator was suspicious––he knew that an army consisting of former gulag inmates, who highly despised the Kremlin. He might have been fearful of their action against the Soviet Union. Members of the Musketeers helped many Poles escape hell of the Soviet Union and thus built up allied forces in the Middle East.
Thus some historians claim that Witkowski alongside Rydz-Śmigły and Kozłowski made an attempted deal with Germany. And his spy ring passed intelligence data to the United Kingdom––either directly or via the Union of Armed Struggle. Some reports say that members of the Musketeers rescued Polish Jews during the Nazi German occupation by transferring them to neutral states via Hungary.
The Musketeers refused to disclose their outlets in Germany to senior Home Army officials and scoffed at the idea of being merged with the Home Army, which sparked tensions. Consequently, Home Army chief Stefan Rowecki "Grot" ordered the assassination of Witkowski. Before death, Witkowski told Klementyna Mańkowska, who was most skilled intelligence officer in his grouping, that a centralized underground institution would be more vulnerable to infiltration by the Gestapo and foreign spies. Perhaps Soviet intelligence agencies were also involved in his death––its officers kept a watchful eye on Polish resistance movements, often being behind the assassination of anti-Communist militants.
Little is still known about the Soviet impact on Polish clandestine movements. Kim Philby, a British intelligence officer and a double agent for the Soviet Union, was in charge of assisting clandestine resistance movements in countries across Central and Eastern Europe. Another wartime double Soviet-British agent was Anthony Blunt, who oversaw embassies in neutral states and had access to Polish diplomatic data. Other Soviet intelligence officers penetrated some allied structures, the Polish government-in-exile, and the Polish Underground State.
It would have been surprising if the Kremlin had not deployed its Communist agents to the territories he claimed his sphere of influence.
Klementyna Mańkowska – Forever Faithful
SOURCE:HTTPS://CIEKAWOSTKIHISTORYCZNE.PL/2022/05/06/KIM-BYLA-KLEMENTYNA-MANKOWSKA/
Photo: Klementyna Mańkowska
Much more is known about Klementyna Mańkowska, a Polish intelligence officer who published her memoirs after the war. Klementyna Mańkowska was born on August 1, 1910 into a land-owning family in Vysichka, a small settlement in the Ternopil region. She was a daughter of Cyryl Czarkowski-Golejewski, Abdank coat of arms, and Izabela Jaxa-Małachowska, who belonged to the noble clan of Gryf. Klementyna had relatives among Poland's noble families, including those of the Plater-Zyberk, the Małachowski, the Sapieha, the Potocki, the Łubieński, and the Mycielski. She had ties to royal families throughout Europe. Klementyna was a fiancee of Emil Rudolf Baworowski. As the two split up, Klementyna, heartbroken, visited her sister at her family estate in Września in western Poland. While there, she met Andrzej Mańkowski, Zaremba coat of arms, who held a land estate in Winna Góra near Poznań. He was also the great-grandson of Jan Henryk Dąbrowski, a notable Polish general who had been given the Winna Góra estate by Emperor Napoleon Bonaparte under the Treaty of Tylża in 1807.
The newlyweds moved to the manor shortly after the wedding. Andrzej was content to entrust the management of the Mańkowski family estate at Winna Góra near Poznań to his wife as he sought to complete studies in Poznań. He was taught classes by Professor Edward Taylor. He had a major in economics––he was awarded a paper on the theory of monetarism. Klementyna and Andrzej had two sons––as Krzysztof and Andrzej were born in 1933 and 1936, respectively. Before the war broke out, the married couple would travel oftentimes throughout Europe, where they would meet notable politicians and diplomats. They both led a socialite lifestyle. Yet Andrzej was soon called up for military service in the 69th Infantry Regiment of the 17th Division of the Poznań Army. He was seriously shot and for the time being immobilized by his subordinates because he had angrily upbraided a group of Polish soldiers for mistreating a captured German officer. Klementyna found him at the hospital and brought him home. Klementyna's father, who served as the second ordinate of Vysichka, after the Soviet aggression against Poland, on September 17, 1939, was arrested by the NKVD and murdered in 1940.
Mańkowska kept a cool head as soon as World War II broke out. When German soldiers on September 11, 1939 sought to claim the family estate and arrange a Wehrmacht office inside, the young countess made a skillful plot to safeguard her place. At that time, Klementyna came across two German aristocrats––Georg von Rothkirch and Harold von Hoepfner. Perplexed with Klementyna's breathtaking beauty, they assured the Mańkowski family they would need only one of the three floors of the manor.
In October, the Gestapo arrived and the family was thrown out of their home at Winna Góra as the estate had been selected as a trophy for Field Marshal Wilhelm Keitel. One of the German officers, Harold von Hoepfner, proposed a joint trip to Italy to protect Klementyna. Yet she turned down his invitation. "I do not think the Wehrmacht officer would want me to give up, for him, a man who stood up heroically in defense of the German soldier," she told him. This depicts well her personality.
As Poles were deported across the western region of the Greater Poland, the Mańkowski family was detained and placed in a cattle car upon a stay in a transit center in Śrem. A German guard helped them set free. They reached Warsaw where they stayed with the ballerina Olga Sławska, a family friend. In late 1939 the Mańkowski family moved on to stay with Teresa Łubieńska, a cousin, at 6 Sierpnia Street close to Zbawiciela Square. Back there, she met Polish officers and members of a newly formed anti-Nazi intelligence grouping, known as the Musketeers (Muszkieterzy).
Fully proficient in many languages, including German, a cold-blooded aristocrat of Nordic traits was a perfect spy candidate. Witkowski offered her cooperation. The Polish officers were amazed to hear the brazen combination of grace and charm that Mańkowska applied to extract information from her German friend about the forthcoming German invasion of France. Harold von Hoepfner turned up unexpectedly in Warsaw to see Klementyna, who resided back then in her cousin's apartment. The German aristocrat brought jewelry and money Mańkowska had asked him to keep once evicted from the family palace. In a lengthy conversation, Klementyna showed her outstanding analytical skills and an excellent memory. She managed to remember many details on Fall Gelb Operation. Witkowski deployed Mańkowska to the French island of Noirmoutier, where the countess was tasked with making contact with Poland's government-in-exile in case France would surrender. While en route, Mańkowska met in Rome Marian Romeyko, a military attache, who from 1942 would lead the Polish-French intelligence network Réseau F2. She informed him about the forthcoming German invasion of Western Europe.
Safe and sound, the countess arrived in the island, where she found a job as an interpreter in a harbor office in Saint-Nazaire. The Port of Saint-Nazaire was then the Atlantic's largest base for U-bots. Here, too, German submarines operating in the Atlantic were being repaired, including the famous battleship "Tirpitz", badly sought after by the Allies. Her exceptional memory enabled her to report accurately on what he had witnessed in the port. With intelligence that Mańkowska had delivered, the Royal Navy organize staged Operation Chariot. On March 28, 1942 a Royal Navy destroyer was detonated, putting the dock out of service until the end of the war.
A fluent German speaker, she would also apply her charm, impeccable manners, and psychological skills to infiltrate the mind of German officers to collect intelligence and specimens. In March 1941 she was arrested by the Gestapo. She stayed cool-headed and German officers offered her a savory wine dinner. Her story was so convincing that Gestapo agents released her and sent her back home in a first-class train compartment. Through a network of contacts, she gathered intelligence on the forthcoming Nazi German attack on the Soviet Union.
Mańkowska knew what sort of intelligence mattered. She traveled to Poland under the pretense of seeing her family, but she saw Witkowski instead. While en route to Poland, she stayed shortly at Rudolf von Scheliha's place––he was a secretary at the German embassy in Warsaw, who befriended Mańkowska's parents. He was also a member of an anti-Nazi resistance movement. He gave Klementyna some documents on Nazi atrocities in Poland and a draft plan for an extermination camp in Treblinka. Mańkowska said she had been the first foreigner to learn that the German government was planning to exterminate Europe's Jews on a truly unprecedented scale six months before the Wannsee Conference. Rudolf von Scheliha was arrested in 1942 and executed shortly after for state treason. His being murdered had nothing do with Klementyna. While in Warsaw, Mańkowska passed all files to Witkowski, who sent them to the United Kingdom. The German stamps were sent to the forgery cell of the Plater-Zyberk brothers.
Mańkowska achieved her biggest success in July 1941, when an officer she had met on a train to Warsaw invited her to dinner. His name was Wallraf Hans Alexsander and he turned out to be an Abwehr officer. Meanwhile, German intelligence, convinced of Klementyna Mańkowska's pro-German sentiments, selected her as a potential agent. She accepted the offer, having first informed Witkowski. She started a new job in the Berlin-based Foreign Ministry as part of her intelligence training. She was transferred to the United Kingdom as soon as she had completed her intelligence internship. Much of her training involved mastery of the necessary encryption techniques and the associated rotating cipher tables. She was taught about important codes, addresses, and pseudonyms for German intelligence contacts in London. As an Italian countess, she was deployed to a village in Saint-Avertin, near Tours, where she had been given a large villa.
A mysterious von Bonin arrived in Tours, who turned out to be Wilhelm Canaris, chief of the German intelligence agency Abwehr. He told Mańkowska––all surprised–– that she would be deployed to the United Kingdom. There she would pass intelligence on a secret anti-Nazi grouping within Wehrmacht, claiming that Hitler was a lunatic bringing inevitable disaster to the German nation. The anti-Nazi movement, according to the shadowy officer, would stage a plot to overthrow the Nazi dictator and make contact with Western states to forge an anti-Communist coalition. This was to the liking of the Musketeers while the Abwehr option was the only chance the grouping had to infiltrate an agent into Britain.
Beforehand, Klementyna visited her mother who had stayed in Vysichka, asking her to leave the country. The old lady refused, saying she would wait for her husband to return.
Mańkowska saw Witkowski in Warsaw; he passed her intelligence reports. She arrived in the United Kingdom on May 4, 1942. Her interrogator introduced himself as Captain Malcolm Scott. He spoke fluent Polish––as his family used to run a sports store in Lviv. She was carefully and systematically questioned about the training she had received from German intelligence and about the tasks that she had been assigned by the Germans. She was released after a lengthy interrogation. Scott said that the British authorities had been trying to convince the Polish leaders in London that Mańkowska was an Abwehr agent, but the Poles remained implacably hostile to her presence in England. Because of this Scott urged her to leave London as soon as possible.
The second warning came from Gen. Kazimierz Sosnkowski, which was against an attempted attack by the Second Home Army Division. Sosnkowski did not endorse Witkowski's ties to MI6 officers. His words were echoed by Krystyna Skarbek and Teresa Łubieńska, who both worked for Polish and British intelligence outlets. Oddly enough, both women were stabbed to death after the war. Fearing for her life, Klementyna moved to Edinburgh, where she took a translation job at the Paderewski Polish Hospital. On June 20, 1944, she gave birth to a daughter, Maria Izabella.
As the Communist intelligence service watched her closely, Klementyna could not return to Poland. The family moved to Congo. They were still legally stateless as the Polish government-in-exile banned them from obtaining Polish passports. Gen. Tadeusz Komorowski aka "Bór", who made some errant political decisions, prevented Mańkowska from being awarded the Saint George's Cross, a British decoration. Historians now claim that his orders––including those on Operation Tempest, compromising resistance structures for the Red Army, and the Warsaw Uprising––brought huge civilian and military casualties while making Polish resistence movements vulnerable to Stalinization. Yet in 1953 the Silver Cross of Merits with Swords was bestowed to Mańkowska by Gen. Komorowski. But as she hailed from the Musketeers movement––which saw a post-war Poland differently than mainstream politicians then––Mańkowska was not recognized for all her merits.
In 1967, the Mańkowski family reached France. In 1963 they settled in Noirmoutier, where local authorities gave the countess some land to thank her for everything she had done for the inhabitants. During the war, Klementyna provided for the regulations to fish at sea, thus helping local fishermen. In 1996 French President Jacques Chirac awarded her with the Order of Merit. In 1997 German President Roman Herzog decorated her with the Federal Cross of Merit in recognition of her wartime merits and her contribution to Polish-German reconciliation. At the age of 80, she published a memoir titled "Moja misja wojenna. Bez trwogi i nienawiści" [My Wartime Mission: No Fear, No Hatred]. They were published in Polish back in 2003. Despite her wartime hardships, she believed that every human being was good-hearted deep down, but they just lived in hard times. She never gave up the promise she had made to Witkowski and the resistance movement he had then led. She died on January 4, 2003 in Sermoise-sur-Loire at the age of 93.
Conclusion
Poland was the only anti-Nazi state that lost the war despite the Nazi downfall. There were indeed some Polish independence groupings––not affiliated with the Union of Armed Struggle–Home Army––that fought for independence. It matters now as only recently has the Russian threat reemerged. Members of these movements had distinct views that those of Polish mainstream politicians and military officials. Admittedly, there was not a slim possibility of rescuing Poland at that time. Wartime reality is a world of extreme so present-day generations can only pay tribute to those who put their lives on the line every day defending the country.
Now––as World War II ended 78 years ago––the time has come to say there is no point in arguing whether the right path towards independence had been pursued. All Poles who fought for a free and independent Poland desire to be cherished and remembered. To depict accurately Poland's political landscape in 1939–1989, one might quote Prince Adam Czartoryski, who once said: "I knew only two parties in the country throughout my life; one Polish and the other one anti-Polish, people worthy and unconscionable; these who sought an independent motherland and those inclining towards a humiliating foreign rule."
References:
1.J. Żaryn, Irena Morzycka-Iłłakowicz, Lista strat działaczy obozu narodowego w latach 1939–1955, v. 1, W. J. Muszyński, J. Mysiakowska-Muszyńska (ed.), Warsaw 2010.
2.https://www.nsz.com.pl/irena-illakowicz/
3.K. Mańkowska, Moja misja wojenna, Rebis 2022.
4.M. Łuszczyna, Igły. Polskie agentki, które zmieniły historię, Warsaw 2013.
5.M. Stasiak, Kobiety wywiadu: Klementyna Mańkowska – hrabina szpieg, 1944.pl (accessed: April 20, 2022).
6.https://ciekawostkihistoryczne.pl/2022/05/06/kim-byla-klementyna-mankowska/
7.https://www.nsz.com.pl/zwizek-jaszczurczy-i-narodowe-siy-zbrojne-na-pomorzu
-1939-1947/
8.https://www.nsz.com.pl/z-kart-historii-wywiadu-qzachodq-zj-i-nsz/
9.https://wielkahistoria.pl/klementyna-mankowska-bezczelna-polska-hrabina-byla
-jedna-najlepszych-agentek-wywiadu-podczas-ii-wojny-swiatowej/
Support Us
If content prepared by Warsaw Institute team is useful for you, please support our actions. Donations from private persons are necessary for the continuation of our mission.
But the Maduro-Putin alliance goes far beyond energy cooperation. U.S. National Security Advisor John Bolton said that in May Venezuelan president had inked a $209-million defense contract with Russia. The American officials did not provide any details. Russian Ambassador to Venezuela Vladimir Zaemsky denied reports as false. Of all Latin American countries, Venezuela is the largest buyer of Russian-made weaponry, with a total worth of all contract concluded so far estimated at $11 billion. For example, Caracas bought Buk-M2 and Antey-2500 air defense missile systems. Under the armaments deals, Venezuelan army has acquired 100,000 AK-103 – Kalashnikov assault rifles, Sukhoi Su-30MK2 fighter aircraft, Mi-35M helicopters, T-72 tanks BMP-3 and BTR-80 combat and armored vehicles. In June, Sergei Chemezov, the director general of Russia's Rostec state corporation, stated that Russia continues to supply military hardware to Venezuela, saying that both countries could sign further defense deals.
All texts published by the Warsaw Institute Foundation may be disseminated on the condition that their origin is credited. Images may not be used without permission.