Russia Monitor is a review of the most important events related to Russian internal and external security, as well as its foreign policies.
Date: 29 May 2023 Author: Grzegorz Kuczyński
Gazprom's Shares Fall While Rosneft Sees Bigger Profit
Russian state-run gas firm Gazprom has seen a massive drop in net profits last year amid Western sanctions and its withdrawal from some major markets. Russia's oil companies are in a far better situation, including Rosneft that saw a record-high increase in its net profit in Q1 2023.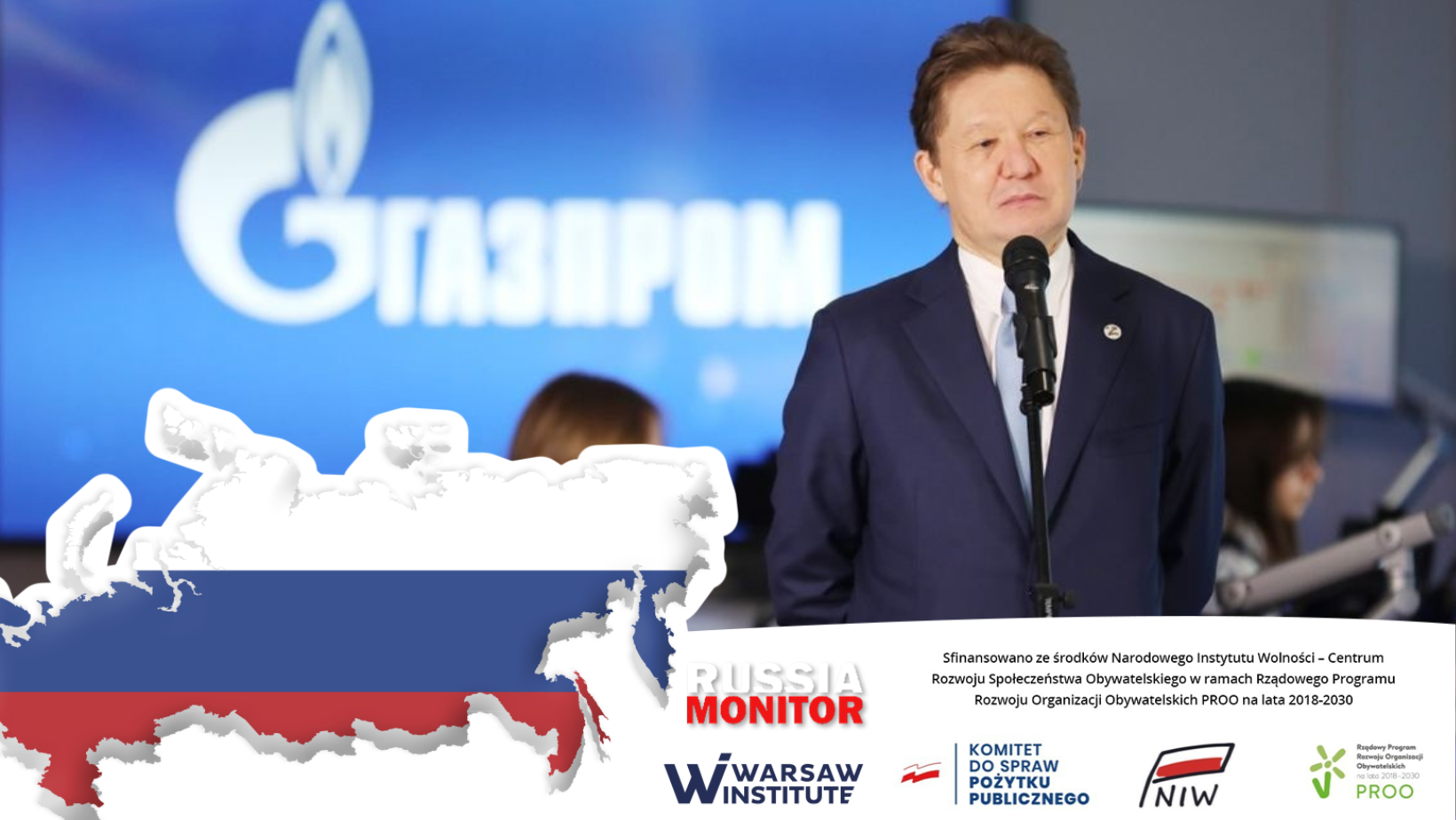 SOURCE: Russia, Gazprom, Rosneft, gas, oil, shares, sanctions, energy industry
Gazprom's net profit fell 41 percent to 1.226 trillion roubles ($15.4 billion) last year due to a tax hike in the second half of the year, the Russian energy giant said. The West last year introduced a raft of sanctions against Russia and state companies over Moscow's actions in Ukraine. Gazprom's gas exports, a key source of revenue, have not been directly sanctioned, but export volumes almost halved last year to 101 billion cubic meters. Average gas supplies to Europe by Kremlin-controlled energy giant Gazprom decreased so far in May to 67 million cubic meters per day from 75.6 million cubic meters per day in April, according to Reuters calculations. Russian gas supplies to Europe have so far been at around 9.1 billion cubic meters this year, in comparison with 62 billion cubic meters for the whole 2022. Gazprom's shares fell around 6 percent after the Kremlin-controlled firm said its board had decided not to pay a full-year dividend after allocating a half-year dividend of 1.208 trillion roubles ($15 billion). The company's shares fell 40 percent over the last year. Other Russian energy companies––Rosneft and Novatek––saw an uptick in their shares by 13.5 percent and 38.4 percent, respectively. First-quarter net profit of Russia's largest oil producer Rosneft rose by 45 percent to some $4 billion from the previous three months on the back of rising output despite Russia's decision to reduce its oil output by 500,000 barrels per day. Rosneft also said its core profit (EBITDA) increased by 25.1 percent from the previous three months, while revenue edged down 1.1 percent. Once the report had been published, Rosneft's shares went up by 2.14 percent.
Support Us
If content prepared by Warsaw Institute team is useful for you, please support our actions. Donations from private persons are necessary for the continuation of our mission.
All texts published by the Warsaw Institute Foundation may be disseminated on the condition that their origin is credited. Images may not be used without permission.