Russia Monitor is a review of the most important events related to Russian internal and external security, as well as its foreign policies.
"Fuel Charge": Lukashenko Pays For Russian Help
The Russian government published a regulation allowing Belarus to ship Belarusian oil products destined to third countries through Russian seaports, according to latest publication by the government of Mikhail Mishustin. Belarusian oil export through Russian seaports is on the list of the conditions Moscow imposed on Lukashenko when agreeing to help him during the political crisis in August last year.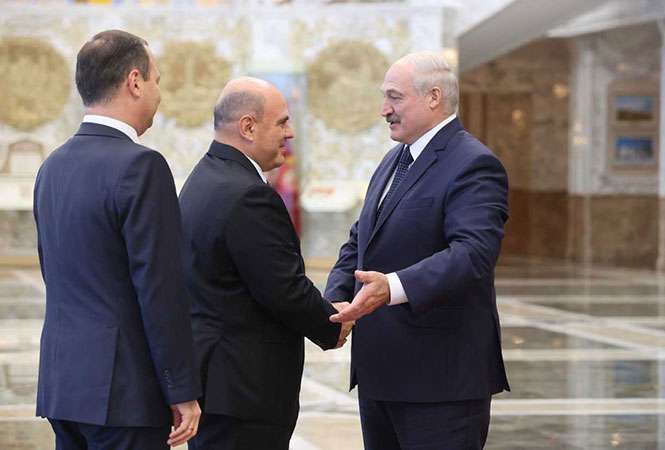 SOURCE: PRESIDENT.GOV.BY
"We approve the draft agreement between the Government of the Russian Federation and the Government of the Republic of Belarus on the cooperation in transporting and transshipping oil products made in the Republic of Belarus, intended to be exported to third countries through the seaports of the Russian Federation, as presented by the Ministry of Transport, agreed with the concerned federal executive authorities and preliminarily developed with the Belarusian side," says the regulation by the Russian government. According to the draft agreement, the volume of transshipment through Russian seaports can amount to 2 million tons throughout 2021. The deal is expected to remain in force until the end of December 2023, with the possibility of extending the deal. Diverting oil products from two Belarusian refineries in Novopolotsk and Mozyr from the Baltic ports to the Russian ones was included in the pact Lukashenko made with the Kremlin while seeking help to supress a wave of social unrest that swept through the country last summer. In the long run, this will not bring any financial advantage to Belarus, but Russia, tying Minsk tighter to Moscow, while the Baltic ports will see fewer profits. In August 2020, Alexander Lukashenko warned he would divert exports now shipped through the Baltic ports, with the whole process now pending. In mid-December 2020, Belarus stopped exporting oil products through the Lithuanian port of Klaipeda although a Belarusian company is a co-owner there. Belarus informed Lithuania about "temporarily suspending of selling oil products through the oil terminal in Klaipeda." The decision is politically motivated, as from the economic viewpoint, exports through the port of Klaipeda – as well as imports – are most profitable for Belarus. Earlier, Belarusian freight represented 30 percent of all of the cargo handled by the Klaipeda port.
Support Us
If content prepared by Warsaw Institute team is useful for you, please support our actions. Donations from private persons are necessary for the continuation of our mission.
All texts published by the Warsaw Institute Foundation may be disseminated on the condition that their origin is credited. Images may not be used without permission.