China Monitor is our brand-new program that analyses China's economic and foreign policies. It also aims to predict the consequences of Beijing's policy for the global economy, the EU as well as Central and Eastern European countries such as Poland.
Date: 31 May 2021 Author: Łukasz Kobierski
China-Russia Nuclear Power Project
On May 19, General Secretary of the Chinese Communist Party Xi Jinping and President of the Russian Federation Vladimir Putin met online at the inauguration ceremony marking the expansion of China-Russia nuclear power project. This is another example of how relations between Beijing and Moscow are strengthened.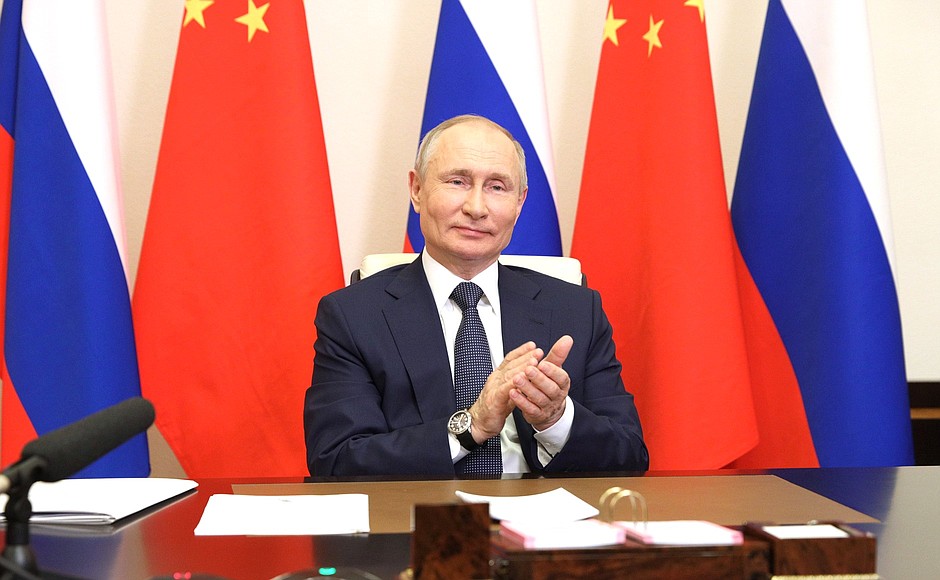 SOURCE: KREMLIN.RU
A meeting between Xi Jinping and Vladimir Putin was related to a ceremony which marked the launch of the construction of the seventh and eighth reactor at the Tianwan nuclear power plant and the third and fourth power units at the Xudapu nuclear power plant in China. The Chinese side was also represented by the member of the Political Bureau of the Communist Party of China (CCP) Central Committee and Director of the Central Foreign Affairs Commission Office of the CCP Central Committee Yang Jiechi as well as the Chinese Minister of Foreign Affairs Wang Yi. In addition, the Russian side was represented by the Deputy Prime Minister and Chairman of the Russian part of the Russian-Chinese Intergovernmental Commission on Energy Cooperation Alexander Novak and Director General of State Atomic Energy Corporation Rosatom Alexey Likhachev.
Xi Jinping stressed that energy sector has always been the most important area of practical cooperation between Beijing and Moscow. He said the four nuclear power units, the construction of which has just begun, are another significant turning point in the China-Russia nuclear energy partnership. Xi Jinping called for strengthening collaboration in fundamental research as well as development of key and innovative energy technologies. According to him, "combating climate change is the common challenge for all countries." Moreover, he added that China and Russia should promote more low-carbon cooperation projects and play a constructive role in achieving global sustainable development goals.
Vladimir Putin began his speech by calling Xi Jinping a friend. He praised the high quality of Rosatom's products. He was also pleased to note that all planned projects are being consistently implemented and listed several of them, those on which they are working or will work. Both leaders noted that this year marks the 20th anniversary of the signing of the Treaty on Good-Neighborliness, Friendship and Cooperation between the two countries.
The two nuclear power plants – Tianwan (Jiangsu Province) and Xudapu (Liaoning Province) – are a part of a $2.9 billion deal signed in 2018 between a state-run China National Nuclear Corporation and a Russian nuclear company – Rosatom State Corporation Engineering Division. All four new reactors use Russian VVER-1200 technology and, once completed and operational, the annual energy production is expected to reach 37.6 billion kilowatt-hours, an equivalent to reducing carbon dioxide emissions by 30.68 million tons per year.
The rapprochement between Moscow and Beijing is lasting and clear. Although cooperation in the field of nuclear energy is not novel, the very aim to demonstrate good relationship is significant and indicates that good relations, joint projects and frequent meetings would be continued. Moreover, these countries have poor relations with the US. It is worth recalling that in March the foreign ministers of China and Russia met in Guilin, just a few days after US-China talks in Alaska.
The construction of subsequent nuclear units is also part of China's plans to reduce its reliance on coal-fired power plants in order to meet its ambitious goals to hit peak greenhouse gas emissions before 2030 and become carbon-neutral by 2060. In 2020, nuclear energy accounted for 4.9% of China's total energy production. It could be assumed that cooperation between Beijing and Moscow would continue to increase, as indicated by the long-term actions of the two superpowers.
Support Us
If content prepared by Warsaw Institute team is useful for you, please support our actions. Donations from private persons are necessary for the continuation of our mission.
All texts published by the Warsaw Institute Foundation may be disseminated on the condition that their origin is credited. Images may not be used without permission.