Gazprom Threatened by Domestic Competitors
A major defeat of Russian state-controlled gas monopoly Gazprom in a conflict with Ukraine's Naftogaz as well as some problems with obtaining financing for such projects as Nord Stream 2 and the Turkish Stream pipeline may eventually weaken the company's position also against its domestic competitors. Among them, there are independent Novatek and state-owned Rosneft. The former is pushing Gazprom out of the LNG market while the latter seeks to abolish Gazprom's monopoly on gas exports via pipelines. The situation is additionally fuelled by political factors; Novatek stakeholder Gennady Timchenko belongs to the so-called Putin's inner circle. As for Rosneft, it is represented by its powerful CEO Igor Sechin who has recently been very successful both in business and politics. Gazprom, traditionally associated with the "liberal" wing of the ruling party, will benefit neither from such a general tightening of the Kremlin's political course nor a clear strengthening of the so-called siloviki camp, with which Sechin may be associated.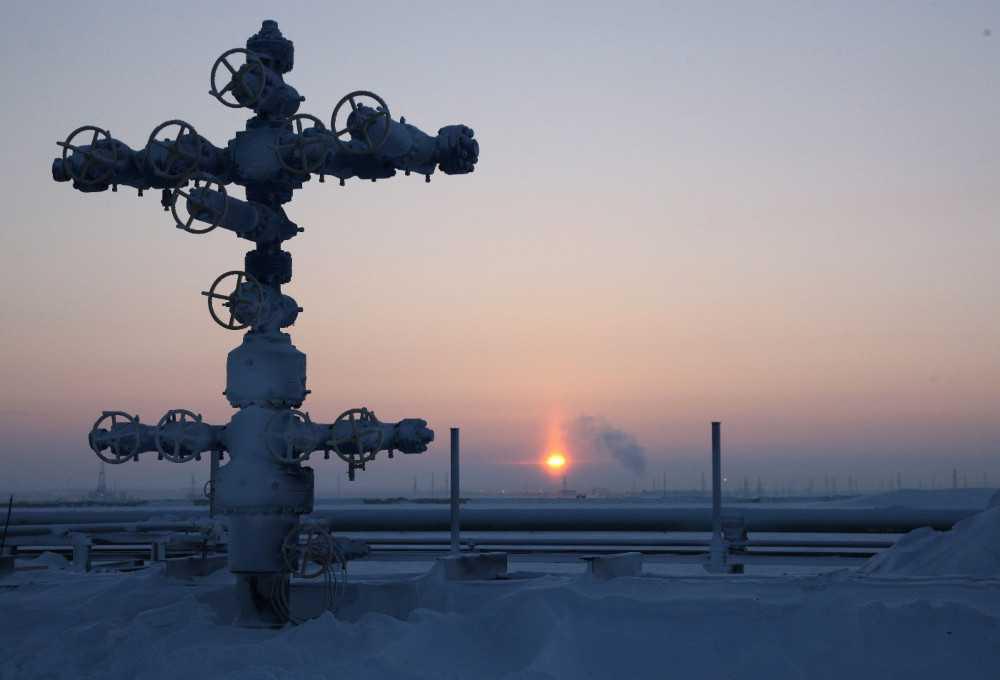 source: gazprom.com
It seems that for Gazprom the pressure from domestic rivals will be a greater threat than foreign competition from such countries as the United States or Qatar. Rosneft and Novatek have long aimed to weaken Gazprom's monopoly on gas exports. The enterprise currently accounts for some 90 percent of gas production in Russia. However, its shares in gas extraction have been steadily declining (95% in 1989 to 66% in 2016). Interestingly, other producers, including independent Novatek and state-owned Rosneft, have increased their own stakes. Nevertheless, extracted gas is sold primarily on the domestic market, as Gazprom has a statutorily guaranteed monopoly on transporting gas through pipelines on the national grid as well as on export lines.
Both rivals, Novatek and Rosneft, have completely distinct goals. The former focuses on the LNG sector and liquefied gas exports to foreign markets whereas the latter strives to gain access to gas exports by pipelines as well as it solicits domestic customers. However in 2013, thanks to Sechin's lobbying, the authorities agreed to allow other companies than Gazprom to export LNG. As a result, the Yamal Arctic LNG project was launched in December 2017; it was the first liquefied gas terminal to be controlled by Novatek and not by Gazprom (as it had been the case so far). The project was supported by the government with tax reliefs and state investments in infrastructure in the region. Its main shareholders are French energy major Total and Chinese energy group CNPC. A day after the company announced the first commercial shipment of the gas from its new terminal, Novatek said it planned to build a second production facility nearby; Arctic LNG 2023 will be operational in 2023.
Also Rosneft seems to understand that the development of LNG sector may be somehow profitable. The company is fighting for access to the Sakhalin-2 gas pipeline to enable it to transport gas from the north of Sakhalin to the south, where the company plans to build the Far East LNG terminal. But Sechin's priority was completely something else. In 2015, Rosneft asked the government to liquidate Gazprom's monopoly for gas exports and to create a market system that would allow Russia to increase its global market share. Rosneft would like to export its gas to China via the Power of Siberia pipeline that is currently constructed by Gazprom. Rosneft disposes of large oil deposits in this part of the country; moreover, it extracts gas there. The company is not able to transport gas via pipelines so it is forced to burn it on the spot. Rosneft maintains very good relations with China. The same can be said about Novatek; moreover, the Chinese are shareholders of the Yamal LNG project. Novatek's main advantage is the fact that it is able to invest large financial resources in one strategic project, namely the LNG export from the Yamal Peninsula (supported by foreign investors). Gazprom is not able to focus on the development of its LNG project because such pipelines as Nord Stream 2, Power of Siberia and Turkish Stream seem to be much more important. Novatek operates entirely in business terms, while Gazprom is focused on implementing state policy. However, Rosneft is a much more dangerous rival for Gazprom as the dispute concerns the overall development strategy of the entire Russian gas sector. For many years, Sechin has been combating Gazprom's privileges; not only has he suggested liquidating the monopoly for export but he also came up with an idea to divide Gazprom. Rosneft is also focused on gaining domestic consumers. It has an advantage over Gazprom that it can operate commercially, while Gazprom is forced to subsidize gas prices for poorer regions.
It is likely that Sechin and Gazprom's opponents will use the company's defeat in the aforementioned clash with Ukraine. For a long time, Russian authorities have not been satisfied with the economic results of the group. Such an example may be the refusal of tax vacancies for Gazprom's LNG projects even though Novatek had been granted such a privilege. It is likely that Gazprom will have to completely recognize the superiority of its rivals in the LNG sector; nonetheless, when it comes to gas pipeline exports, it will probably maintain a monopoly in Europe and, at the same time, the company will allow Rosneft to operate in China.
All texts published by the Warsaw Institute Foundation may be disseminated on the condition that their origin is credited. Images may not be used without permission.