A Strike Against Oblivion – Oleg Sentsov's Fight Continues
On May 14, 2018, a Ukrainian film director Oleg Sentsov who serves his sentence in a Russian jail has announced a hunger strike. The strike is still going on. Despite the fact that Sentsov's health condition is described by his family members and his lawyer as "disastrous", he shows his strong will and determination and is not going to end the strike. Sentsov does not demand his own freedom, but the release of other Ukrainian political prisoners from the Russian labour camps. Nobody should forget about Sentsov.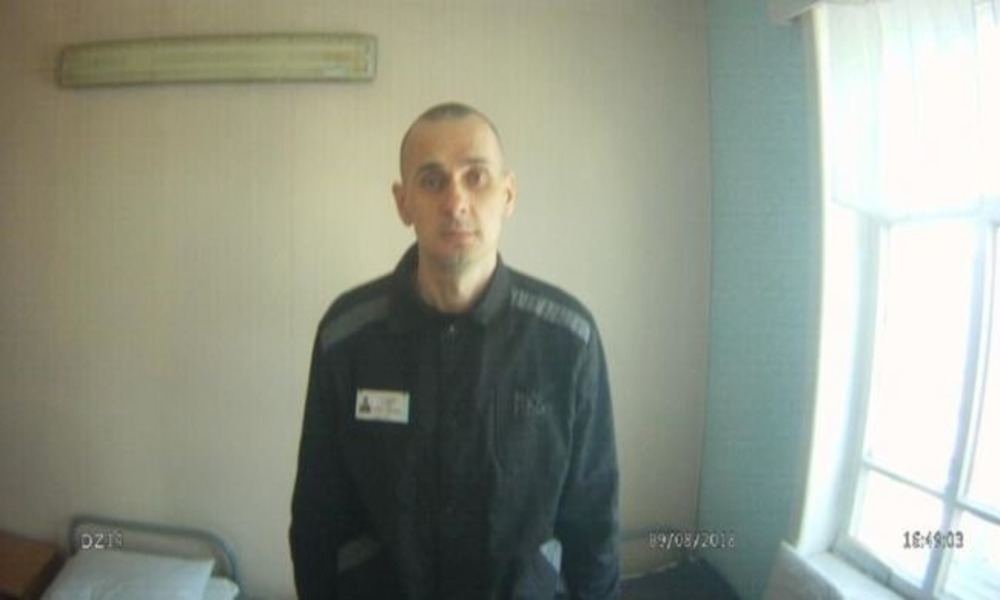 SOURCE: FACEBOOK.COM/LYUDMYLA DENISOVA
Sentsov has started his hunger strike in May this year in order to grab the attention of the international public opinion to the situation of the Ukrainian political prisoners during the FIFA World Cup 2018 in Russia. In foreign countries people were signing petitions, famous people of culture were writing letters to the President of the Russian Federation Vladimir Putin, world press described the lawlessness during the Sentsov's trial, pickets in front of the embassies and consulates were organised as an expression of support for Sentsov.
During the World Cup final at the Luzhniki Stadium in Moscow Sentsov's case was raised as well: then, members of the Russian feminist punk rock group "Pussy Riot" run into the field during the match protesting against tortures in Russian jails and demanding the release of all political prisoners. 42-year-old Oleg Sentsov, a father of two children, is one of them.
Nothing helped. Years pass – Sentsov is still in prison. According to the Kremlin, the western society should get used to "staying away from the internal affairs of Russia". In the context of the Sentsov's case, Russia demands something which one should never get used to…
Sentsov is a Ukrainian patriot. He lived in Crimea. He did not want to agree on the annexation of the Ukrainian peninsula to Russia. He was detained in the annexed Crimea by Russian secret service on May 10, 2014. He was charged with plotting terrorist attacks, among others, carrying out the explosion of the Lenin monument in Sevastopol. He was transported to the penal colony "Polar Bear" in Labytnangi in the north of Russia, which is a very inaccessible place. In August 2015 he was convicted of terrorism and sentenced to 20 years in prison. He has never pleaded guilty. Sentsov's friends who are witnesses in the case testified during the trial that Sentsov was inciting people to blast away the Lenin monument. Later, they withdrew from their testimonies as they claimed that they were extorted.
Despite appeals made by Ukraine and western countries, directors and artists, Russian authorities do not want to release Sentsov. They impose a Russian citizenship upon him. They claim, that he has automatically become a citizen of Russia after the annexation of Crimea to the Russian Federation as a result of the referendum which was held there in 2014.
Lyudmyla Denisova, Commissioner for Human Rights in Ukraine discussed with her Russian counterpart Tatyana Moskalkova the exchange of Sentsov. "It was about the possible exchange of Oleksiy Sedikov for Oleg Sentsov". Tatyana Moskalkova said that there were some legal nuances – Russia claims that Sentsov is a Russian citizen, so an exchange of a Russian citizen for a Russian citizen is impossible…" – she explained.
The issue of Sentsov's citizenship in his trial – which was fake from the beginning to the end – is extremely ridiculous: being a citizen of Ukraine (as he considered himself as) he was arrested and judged as a citizen of the Russian Federation, even though he did not want to be one. How can a person obtain a citizenship against his will?
Meanwhile, Sentsov's health condition is getting worse. According to Natalia Kaplan, the prisoner's cousin, Sentsov almost does not leave his bed. Dmytro Dinze, Sentsov's lawyer, informed that Sentsov's heart had slowed down to 40 beats per minute, and there were irreversible changes in his organism, which would have a negative influence on his life and health in the future, on condition that he survived.
In a letter passed by the lawyer to Kaplan, Sentsov writes that the end is coming and he is not writing about the end of his imprisonment. He also asks whether anyone is still interested in his hunger strike, as he does not receive any letters – he is currently kept in isolation from information.
European Court of Human Rights insists on the relocation of Sentsov to a civil hospital which is as close to his place of residence as possible. But Sentsov does not agree to the relocation, saying that he would not survive the journey. Whereas in the civil hospital in Labytnangi where he was admitted to the resuscitation unit, Sentsov claim that he was abused there even more brutally than in a prison hospital.
In respect to information that the deteriorating health condition of the Ukrainian director Oleg Sentsov illegally imprisoned in Russia, Ukrainian Ministry of Foreign Affairs appeals to western partners for exerting more pressure on Moscow. On August 8 this year, Mariana Beca, a spokeswoman of the Ministry, announced that on Twitter. "Disturbing information about the Sentsov's deteriorating health condition: we call our partners to exert more pressure on the Russian Federation in order to release him" – she wrote.
Sentsov's mother wrote a letter to Putin in which she asked him to pardon her son. On August 9, Dmitry Peskov, the Press Secretary for the Kremlin, informed that the letter was received.
Russian artists, writers, directors, including Oleg Basilashvili, Lyudmila Ulitskaya and Andrey Zvyagintsev asked the president of France Emmanuel Macron to convince Putin to release Sentsov. On August 10, Macron had a phone call with Putin. Officially, the Kremlin's press service announced that the presidents talked about the situation in Syria. The question whether they touched the issue of Sentsov's hunger strike was not mentioned. According to the Bloomberg news agency, Macron appealed to Russia for finding a humanitarian solution to the Sentsov's case; Putin, on the other hand, promised to soon inform Macron about the health condition of the Ukrainian director. One should remember that Macron had talked to Putin about Sentsov before. Then, he underlined that a common dialogue should help to find a solution to this complicated situation.
Russian authorities have many times demonstrated their disobedience towards the law to the whole world, but there is no point, not mentioning mercy, in keeping the Ukrainian citizen Oleg Sentsov in prison. Russia gains nothing and tarnishes its reputation. However, the Kremlin does not yield under international pressure as according to the only decision-making person in the country, namely president Putin, it would be a sign of weakness. This is an absolutely thuggish logic: we will not release him, as long as we enjoy the game.
Sentsov did not kill anybody, but his sentence is terrible – just as for committing a mass murder. This revenge is organised only to shock the citizens of Crimea who are dissatisfied with the occupying powers. Human life is a price for this game. Sentsov is on the verge of life and death. This is bad news not only for him, his family, friends or simply people who wish him well – this is bad news for citizens of Russia. It is bad news for Europe. Therefore, nobody should forget about Sentsov.
All texts published by the Warsaw Institute Foundation may be disseminated on the condition that their origin is credited. Images may not be used without permission.