Russia Monitor is a review of the most important events related to Russian internal and external security, as well as its foreign policies.
Date: 20 June 2022 Author: Grzegorz Kuczyński
Russia-Ukraine War Empowers Chechnya's Kadyrov
The leader of Chechnya Ramzan Kadyrov has never got on well with federal strongmen, in particular FSB officers. His radical stance on the Russian invasion of Ukraine and Chechen involvement––quite brazen in social media outlets––consolidated his position in Moscow. Kadyrov's recent visits to the Russian capital displayed both his ambition and influence.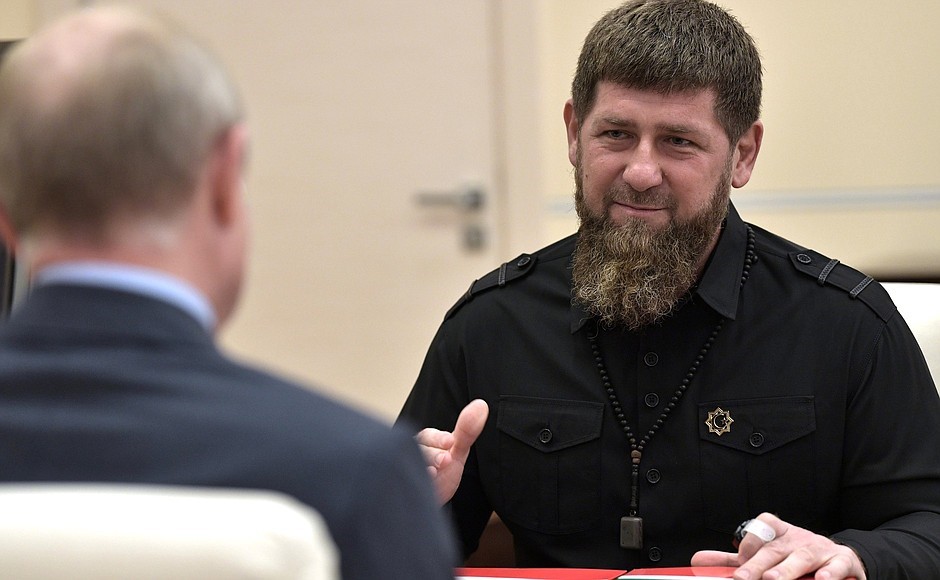 SOURCE: kremlin.ru
On June 2, he went to Moscow for talks with Russian Defense Minister Sergei Shoigu. Russian forces will drastically speed up their offensive in Ukraine following an unspecified change of tactics, Kadyrov wrote later in a social media comment. He also said Shoigu had outlined "new tasks to improve further tactics" on the battlefield during their meeting. The defense ministry did not confirm his claims. Three days later, Kadyrov said he held talks with FSB Director Alexander Bortnikov in the Lubyanka office of the latter. "We discussed in detail a number of issues that brook no delay. Since our last meeting, many different topics have accumulated, including problematic ones, for detailed discussion and professional assessment," the head of the region wrote after the meeting. He also posted a picture of him and Bortnikov. The two meetings illustrate the growing role of the Chechen leader in the Russian "party of war," which is naturally with consent from Vladimir Putin. Perhaps the Russian president is using the loyal Chechen leader to drill top siloviki. Kadyrov had opposed Russia's retreat from northern parts of Ukraine. The Chechen strongman is becoming somewhat a bugbear of both Shoigu––responsible for the Russian military failure in Ukraine––and Bortnikov, who serves as chief of the 5th Service. The hugely powerful branch of the FSB, which oversees its operations outside Russia, made failed intelligence efforts, depicting a false image of the political situation in Ukraine shortly before the invasion. Kadyrov––as for him––has nothing to reproach himself with. He deploys Chechen military personnel to Ukraine and they boast on social media about their military efforts. No other ethnic group serving in the Russian armed forces followed such a PR campaign amid the Russian invasion of Ukraine. Detached from reality, Putin sees the Chechen leader as an example of the loyal commitment to his "just" war against Ukraine.
Support Us
If content prepared by Warsaw Institute team is useful for you, please support our actions. Donations from private persons are necessary for the continuation of our mission.
All texts published by the Warsaw Institute Foundation may be disseminated on the condition that their origin is credited. Images may not be used without permission.