Russia Monitor is a review of the most important events related to Russian internal and external security, as well as its foreign policies.
Date: 13 February 2023 Author: Grzegorz Kuczyński
Lavrov Visits Sudan to Conclude Red Sea Naval Base Agreement
Following the visit of Russian Foreign Minister Sergey Lavrov to Sudan last week, Moscow and Khartoum have finalized the terms of an agreement on establishing a logistical center for the Russian Navy in Sudan, concluded a few years ago. The deal was somewhat derailed due to an unstable situation in Sudan. Sudan has been without a parliament after a popular uprising led to the military overthrow of longtime autocrat Omar al Bashir. Russian officials get on well with the Sudanese military junta while some top Sudanese generals have benefitted from collaboration with the shadowy military contractor Wagner Group.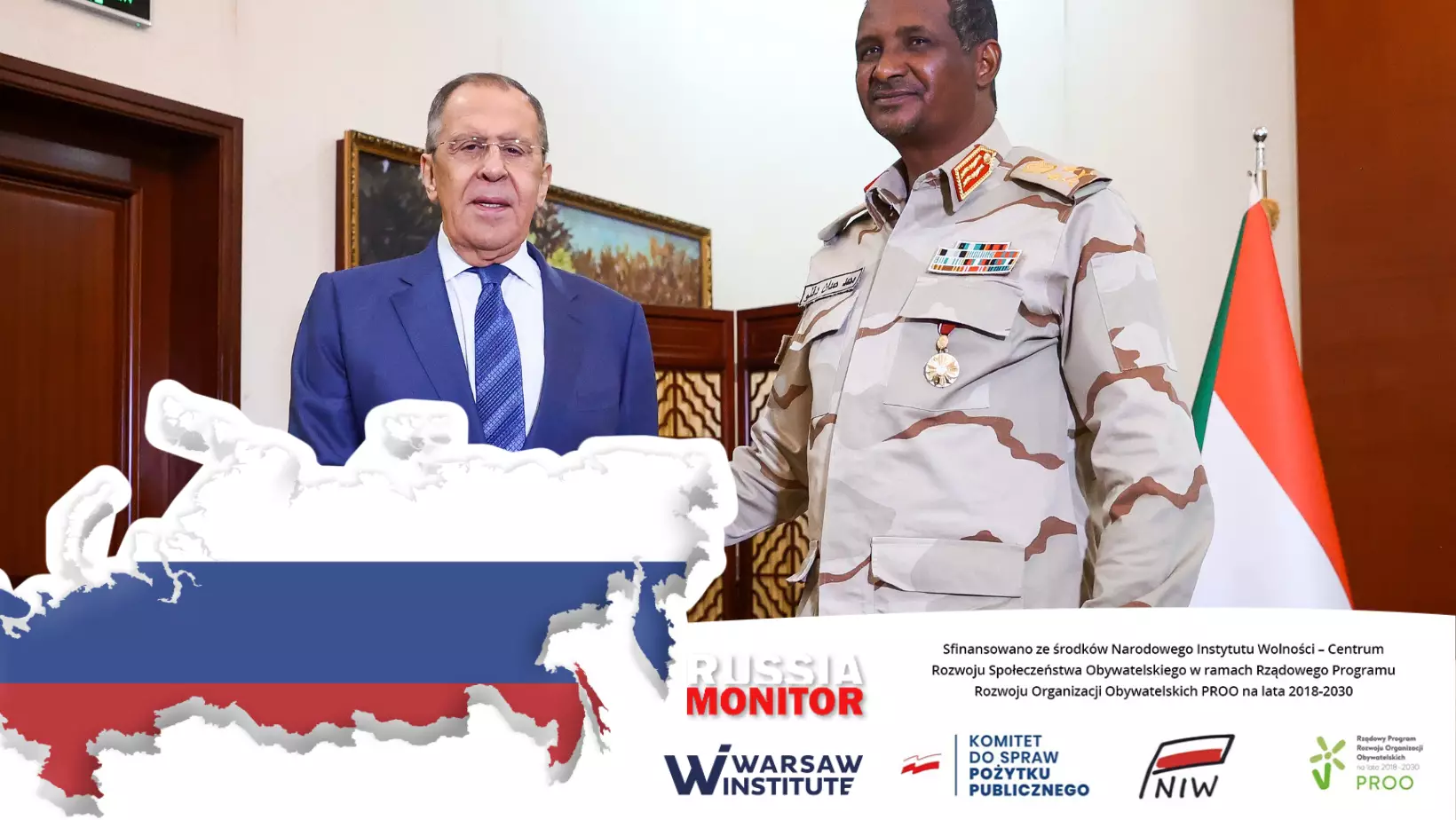 SOURCE: mid.ru
Russian Foreign Minister Sergey Lavrov met Sudanese officials in Khartoum on February 9, including top Sudanese generals: Abdel Fattah al-Burhan, who now chairs the military government, and Mohammed Dagalo, commander of the powerful paramilitary Rapid Support Forces. Lavrov also held talks with Khartoum's acting foreign minister Ali al-Sadiq. While in the Sudanese capital, the top Russian diplomat concluded a review of an agreement with Sudan to build a navy base on the Red Sea in the African country. The agreement allows Russia to set up a naval base with up to 300 Russian troops, and to simultaneously keep up to four navy ships, including nuclear-powered ones, in strategic Port Sudan on the Red Sea. The agreement is to last for 25 years, with automatic extensions for 10-year periods. Russia will benefit from the port that gives it easy access to the Indian Ocean. In exchange, Russia is to provide Sudan with weapons and military equipment. In December 2020, Moscow struck a deal with Khartoum to establish its first naval outpost at Port Sudan on the Red Sea. Yet it took many months to seal the deal. Sudan officially recognized Russia's annexation of Crimea. The shadowy private military company known as Wagner Group started operating in Sudan in 2018 to provide training to the military and secure investments owned by Yevgeny Prigozhin. Through Meroe Gold, which is associated with Prigozhin, Russian mercenaries are accused of colluding with the Sudanese military to exploit Sudan's gold reserves. A top figure is Gen. Mohammed Diagalo, who has long been in favor of a Sudanese-Russian alliance. He even visited Moscow the day before Russia invaded Ukraine. Russia also helped the military crush anti-government rallies. Diagalo and his family members have colluded with Russia to exploit Sudan's gold reserves, perhaps benefiting from these gold dealings. A new Russian naval base at Port Sudan will bolster its influence both throughout the Horn of Africa and the entire continent, where Russia has built its foothold in the Central African Republic, Mali, Burkina Faso, and Libya.
Support Us
If content prepared by Warsaw Institute team is useful for you, please support our actions. Donations from private persons are necessary for the continuation of our mission.
All texts published by the Warsaw Institute Foundation may be disseminated on the condition that their origin is credited. Images may not be used without permission.