The latest 12th issue of "The Warsaw Institute Review" is now available
The first in this year and twelfth in overall issue of the English-language quarterly "The Warsaw Institute Review" has just become available to readers in both paper and electronic versions.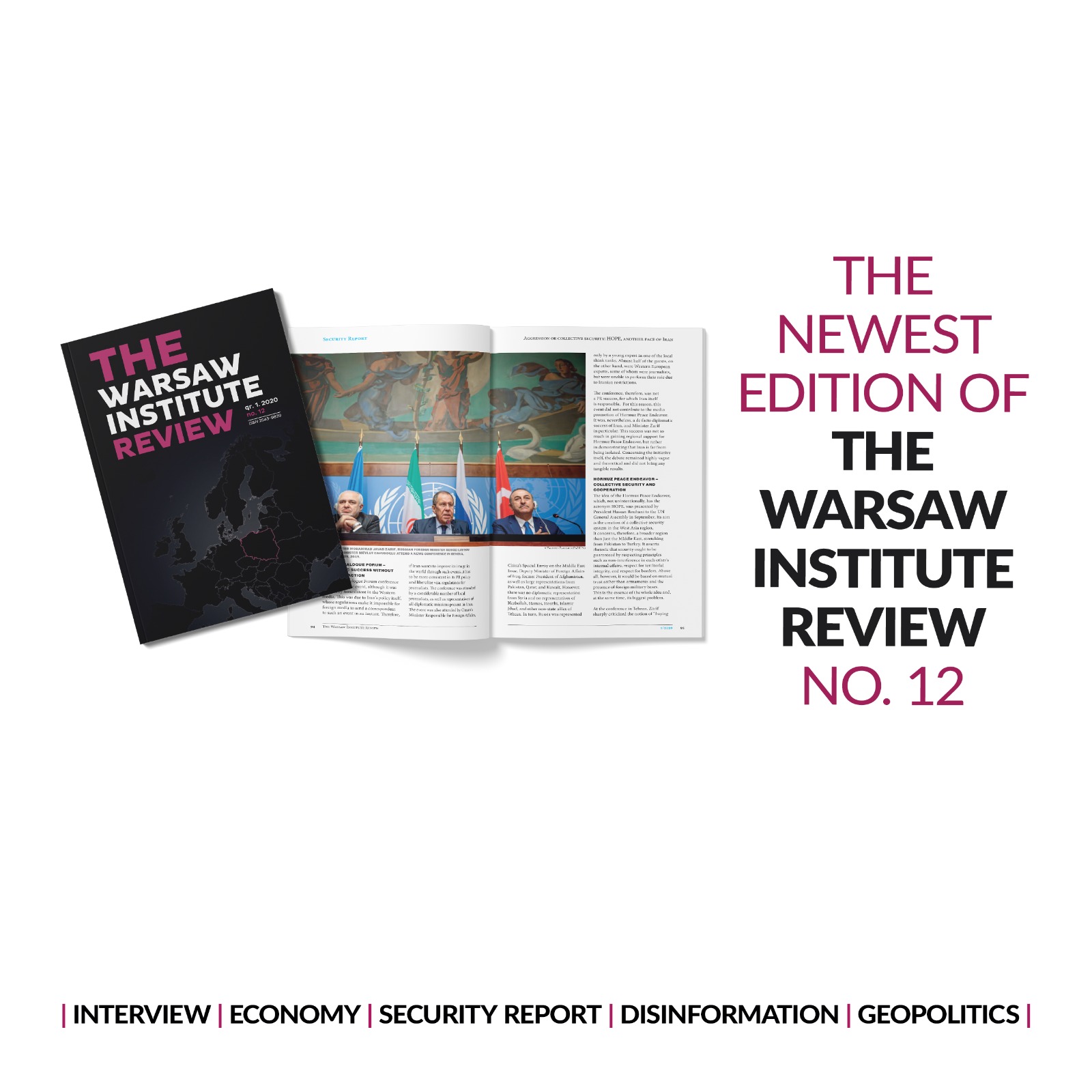 The preparations for the release of the new issue began before the global pandemic and then were marked by the ongoing crisis. Thus, the first publication of the quarterly this year could not but address the topic of the coronavirus-related situation and prospects for the future. The twelfth edition of "The Warsaw Institute Review" is opened by the interview conducted by the editor-in-chief Izabela Wojtyczka with Professor Tomasz Grzegorz Grosse about how COVID-19 will affect the European Union, its shape and geopolitical situation. Professor Grosse is also the author of an article on the French vision of the future of the EU, in which he discusses how Paris is trying to use Brexit and the weakening of Germany to introduce its own ideas on European integration. The issue of the United Kingdom's withdrawal from EU and how it will affect Polish-British relations is also discussed in the interview with Professor Arkady Rzegocki, the Polish Ambassador in London.
The latest issue also includes a number of texts on security related topics, including the article about PGNiG's victory in arbitration case against Gazprom by Janusz Kowalski, secretary of state at the Polish Ministry of State Assets and a former PGNiG board member. On the other hand, Grzegorz Kuczyński, expert on Eastern affairs and director of the Eurasian program at the Warsaw Institute, discusses the issue of the Sino-Russian military alliance. In the section on geopolitics, Dr. Bryce Wakefield deals with the subject of the balance of powers in the Indo-Pacific region, and in the historical section, the journalist and WIR's correspondent from USA Daniel Pogorzelski recalls Stanisław Szukalski, a Polish artist whose name has recently become more known thanks to the Netflix documentary film. The list of authors of the latest edition is completed by Professor Piotr Bajda, Paweł Pawłowski, Aleksander Ksawery Olech, Laurențiu Pachiu, George Scutaru, Witold Reptowicz and Katarzyna Utracka. The editors of "The Warsaw Institute Review" also prepared a report on Polish economic patriotism. The thematic scope of the quarterly, its coverage, reach and expert group are therefore constantly evolving.
All texts published by the Warsaw Institute Foundation may be disseminated on the condition that their origin is credited. Images may not be used without permission.