Final Agreement with General Dynamics was Signed. Piranha V to be Produced in Romania, in a EUR 895 mln Deal.
227 PIRANHA V armored fighting vehicles will be delivered to the Romanian Army, based on an agreement sign at the end of the week by the Romanian Defence Ministry and the U.S. group General Dynamics. With first 30 armed vehicles to be delivered from Switzerland and next 6 ones to be assembled in Romania, the Bucharest Mechanical Factory will produce the remaining 191 Piranha V, in a Romanian-American joint venture, as Romanian engineers will be trained by General Dynamics. Romanian produced PIRANHA V could be delivered to Spain and Denmark too, as the two NATO allies agreed upon the same model of armed vehicle. The Romanian Army should buy 500-600 new carriers in the following 10 years.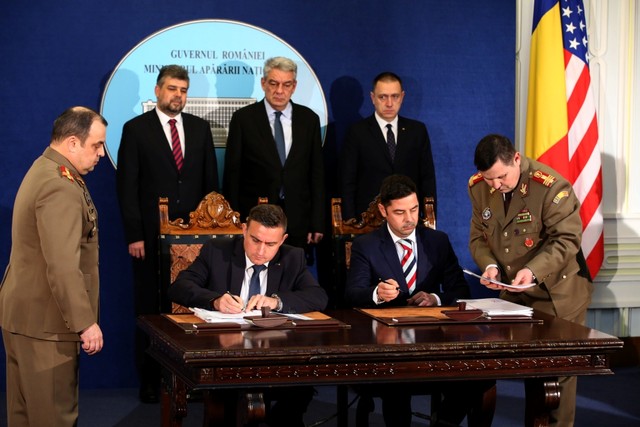 SOURCE: ROMANIAN NATIONAL DEFENCE MINISTRY
Negotiations started by the Romanian state and the U.S. group General Dynamics at the beginning of 2017 reached the final form last Friday. The EUR 895 mln contract was signed in Bucharest in the presence of PM Mihai Tudose, Mihai Fifor – the Romanian Defence Minister and high rank Romanian officers. The deal could put back on track the Romanian defence industry, as the new PIRANHA V will be produced by a Romanian-American joint venture company. According to the deal, the Romanian side will offer the production line and the employees needed to be trained in Switzerland, as the U.S. group will invest in the modernization of the Bucharest plant. Production should start by the end of 2018.
With Romanian authorities committed to reach 2% GDP expenses in defence, Mihai Fifor stated in November 2017 that we will not go for shopping, we want common programs for the revival of the Romanian defense industry. In addition to the acquisition of PIRANHA V conveyors, the Romanian state is also involved in a partnership with the Germans from Rheinmetall, who would develop and build a new amphibious armored conveyor model – AGILIS 8X8 – at the Moreni Plant. The project looks now to be put on hold, as it should have been developed by a Romanian-German joint-venture, even if the Romanian authorities recently reassured that the army will get two types of armored vehicles. Nevertheless, the 3 years presence of the German group in Romania did not lead yet to a final agreement, as defence analysts say that in the light of the new Romanian-American cooperation, the deal with the Germans could be postponed.
The development of the PIRANHA V is being carried out by General Dynamics and Mowag Switzerland. The first PIRANHA V prototype was completed by the end of 2008. A large number of PIRANHA vehicles were delivered to more than 20 countries and are currently deployed on operations in Iraq and Afghanistan.
All texts published by the Warsaw Institute Foundation may be disseminated on the condition that their origin is credited. Images may not be used without permission.